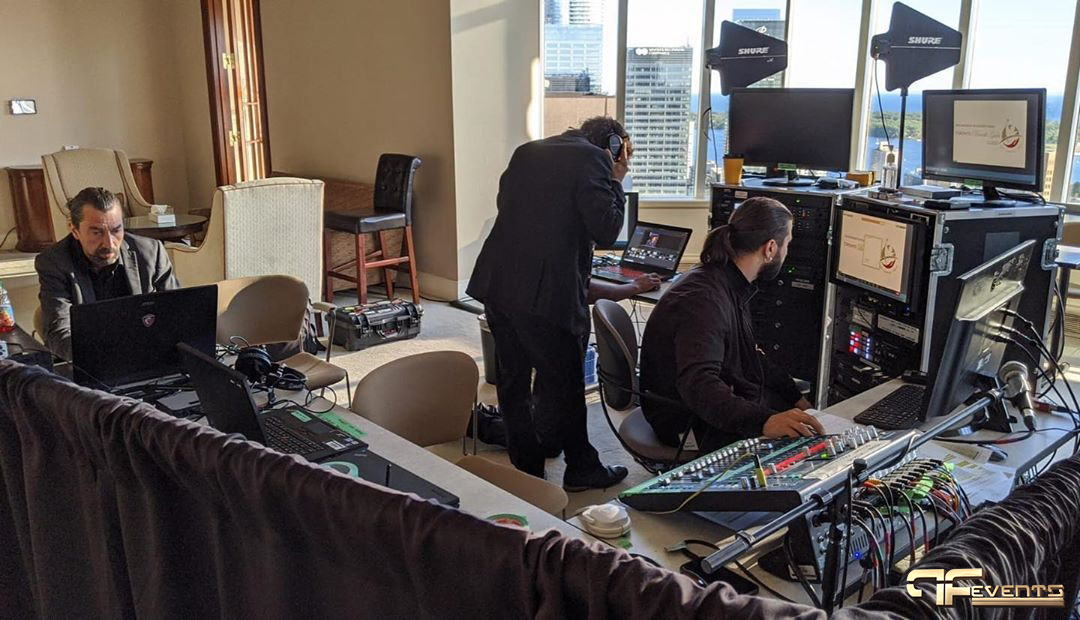 Benefits of Virtual Events and Hybrid Events
Which are the benefits of Virtual Events and Hybrid Events? Events today are and continue to be one of the best forms of communication for us and our companies? It's are indisputable: optimization of internal and external relations, recognition of Benefits and brand building, new contacts, and many other advantages.
To create a successful event, many objectives must be created, as well as many opportunities to achieve it. A few years ago there were only face-to-face meetings. But with the rise of technology, these old contacts have been replaced by new ones, such as Virtual Events and Hybrid Events.
An unstoppable advancement of technology has had a positive impact. It is able to remove physical barriers and create new alternatives mentioned above such as: Virtual Events and Hybrid Events. Virtual Events take place on a virtual platform on the Internet, while hybrid events are a mix of physical and virtual events, integrating well.
It does not matter if the purpose is to present a product or service, to create corporate events or tradeshow events. Personal contact is always important because face-to-face meetings make events more believable. In fact, this is the main purpose of organizing an event: we are able to connect with different people at different levels of society. And the closer the contact, the more successful the event is able to emerge.
But face-to-face events also have a number of disadvantages that directly affect organizations. Let's look at them together:
Investment and high expenses:
The cost of these types of meetings, when compared to virtual events or hybrid events, is much higher than them. As there are also costs such as venue, rental of premises, insurance, staff payments. While with Virtual Events and Hybrid Events you will have limited expenses.
Maximum attendance of visitors:
Toronto is the place of events, great and incomparable events take place here. But often the desire to participate in an event is great, but we have limited reservation places. And here he does a super good job and incomparable virtual events and hybrid events from Future's Past Events. They do not give a limitation of participants and any invited person can climb together.
Less measurable and immediate results:
The technology used by Future's Past Events allows virtual events and Hybrid events to create a more realistic and meaningful approach to data. This allows the company to issue reports and improve the upcoming event. Of course the results that a face-to-face event can give can also be effective, but not as much as a virtual events and hybrid events.
Virtual Events – Innovation at the Service of Companies
The development of technology and the development of mobile / Pc devices, has had a positive impact on the creation of simpler and less expensive events. Future's Past Events using virtual events offers an online platform where anyone can connect regardless of their location.
The uses of virtual events are endless such as: Website, video conferencing, online publishing, various activities. In other words, it has to do with one world completely another virtual world. But the advantages of the virtual world do not stop. A 3D virtual world not only is able to allow hundreds of people from their mobile devices to join. But it is also able to interact with their voice and movements.
Virtual Events have many much desired advantages such as:
Greater participation of the attendees
Broader attendance
Important cost reduction
Higher profitability
Eco-friendly
Immersive and innovative experiences
Hybrid Events – The Union of Both Worlds
Where better than to use Hybrid Events having a physical experience online. The objective of this is for the attendees to make a mix between the digital and the physical world. In a hybrid event, you have the opportunity to participate in conferences, lectures, or seminars in both formats both online and offline. One of the main advantages of this meeting is the mutual benefits, giving everyone the opportunity to choose the way they want the most.
Why would you choose Future's Past Events?
Audio Visual Services Events: During these changing times, the importance of remote communication has never been higher. At Future's Past Events we have adapted to this change, and by using state-of-the-art technology we offer solutions to your business needs.
For more information on Future's Past Events and to make your corporate events or other occasions, incredible make us a call at (416) 939-7525 or send us an email at [email protected]!