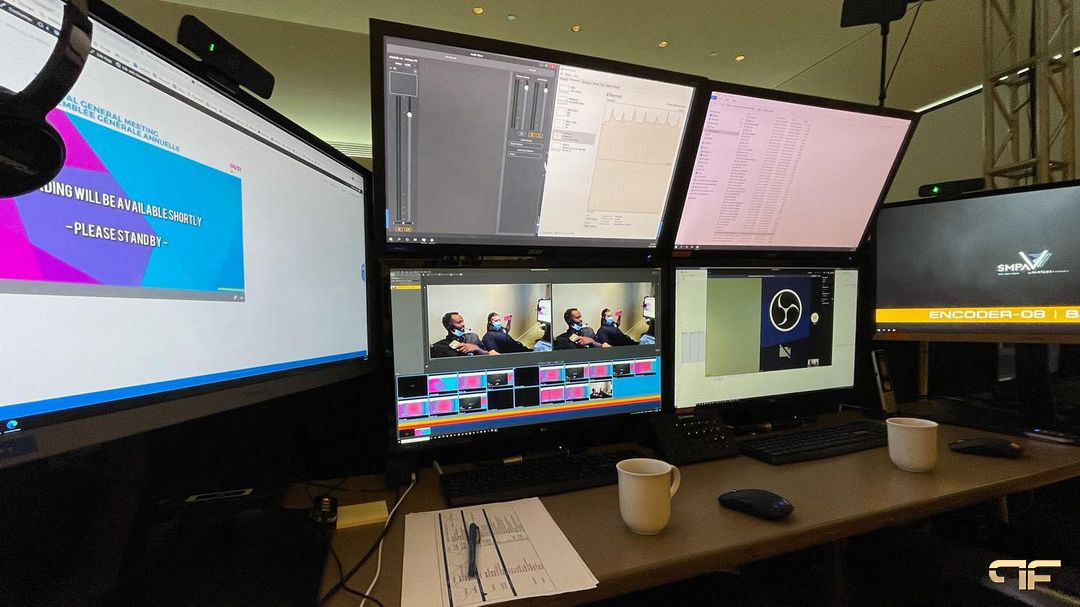 Virtual Events
Virtual events often cost less and reach a larger audience when compared to past in-person events. You also have a better chance of getting involved with keynote speakers and celebrity hosts as travel time and travel expenses are no longer factors.
It is important to note that fall calendars fill up quickly. If you have already booked your AV production company and host/fundraising auction for a virtual event in the fall, you risk losing your top choice vendors if you have to change your date to secure a venue. If you definitely want to add a personal ingredient, consider including a studio audience or organizing a special viewing party for your virtual Livestream.
Livestream in Front of a Studio Audience
Focus your event on your virtual audience while giving a select group of sponsors or ticket participants a fun experience like your studio audience. This is a great option if your AV production company livestreams from a large studio. This special behind-the-scenes experience may also include a special reception for the studio audience after the event.
Organize a Watch Party
If your supporters are eager to gather for an event and you want to save on the benefits of virtual fundraising, holding a formal ticketing party is a smart idea. By livestreaming from a studio, you will ensure a high-quality livestream for everyone in the home. You will also have fewer technical requirements to meet when choosing a venue for the watch festival. To ensure everyone's safety, you can set restrictions on those who attend in person (such as vaccination tests and temperature controls).
Hybrid Events
Hybrid events give you the opportunity to reach an in-house audience and invite guests to attend in person. Unlike holding an audience in the studio or an hour party, the hybrid event shifts the focus to the personal audience because the event is livestreaming from the venue.
When planning an on-site hybrid event, pay close attention to your guest experience and write your program carefully to be inclusive of both audiences. Does the content of your program give enough reason for someone to tune in from home to watch this event? Is your fundraising fund supported in mobile technology and will your personal audience be able to use it from the venue? Be sure to add extra staff and volunteer roles during the event to support both audiences.
Live Events
This is the closest version of pre-pandemic events we have all enjoyed. Considerations for returning to the room to host a live event in fall 2021 include the length of the program and what your plan is to keep the attendee safe. The best practice for virtual events is to limit the program to 60 minutes. Shortening your personal event to 2 or 2.5 hours can be a good idea to hold the attention of your audience as we are all used to being again and again. Although restrictions have been lifted, event organizers should still consult with the state health authority and CDC posts for guidance on host rallies and risk factors to consider.
Regardless of what your colleagues decide to do, choose your event format based on your unique event goals. How were you successful in connecting with your supporters during the pandemic and can you incorporate it into your event? What is your ability to limit risk to your audience and organization? As you consider your options, we invite you to contact us to discuss the different event formats and opportunities associated with each.