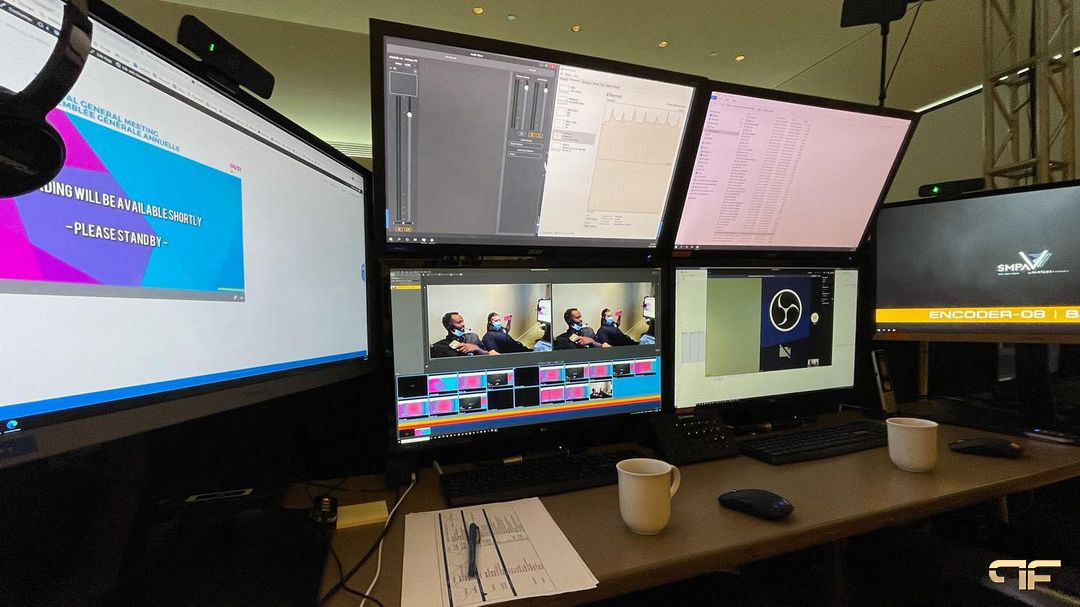 Hybrid events, or those that integrate in-person and virtual experiences, will become the new normal in the event industry.
Live events and conferences that had been planned months in advance were canceled or postponed in a matter of days. While virtual events have their benefits, one of the most fundamental lessons learned in the event industry is that live events will always be an important part of any comprehensive event program.
It's time to consider a new event type: hybrid events. A virtual event may be the only option in some situations, such as this pandemic outbreak. There will be instances when having an in-person event is the best way to generate leads and engage your audience.
Your Total Event Strategy and Hybrid Events
A successful hybrid event necessitates planning and ingenuity. Do you have the resources you'll need to market and advertise your hybrid event effectively? What do you want your attendees to remember about this event? You may help design your hybrid event schedule by answering these and other questions.
Hybrid Events
Hybrid events are ideal for programs that can be held both on-site and virtually. Here are some great examples of hybrid event programs:
Conferences
Sales kick-offs
Global town halls
When many of your attendees who would ordinarily attend in person are unable to do so, hybrid events are a great alternative.
Onsite Events
When it is critical that all of your attendees come in person, entirely onsite events should be scheduled. You know that much of the content won't transition well to a virtual environment and that there isn't a solid option for communicating it, therefore an onsite experience is the best method to provide it. Here are some examples of onsite events you might wish to consider:
Small customer luncheons
Team bonding outings
Awards ceremonies
When you do have an onsite event, make sure that everyone is safe. Offer a self-service check-in option to make your attendees feel more at ease, and plan your seating arrangements to follow social distancing principles.
Virtual Events
If you can't conduct a physical event, have a limited budget, or the content you want to impart can be efficiently shared via video, entirely virtual events should be created. Don't spend money or time by having folks attend in person if it isn't necessary. Repurpose those materials for onsite or hybrid events in the future. The following are some instances of successful virtual events:
Webinars
Frequent team meetings
Customer success groups
Study groups
Executive panels
Key Elements of Hybrid Events
One common misconception we've heard in the industry is that a virtual live streaming provider is all you need for a hybrid event. The same aspects and characteristics are required for a successful hybrid event as they are for an onsite event. These features, when combined with a strong virtual streaming provider, will ensure that your hybrid event is a huge success.
Engaging Content
Your content is arguably much more important for a hybrid event. Not only should your in-person guests be involved throughout the event, but you should also keep your virtual attendees engaged. Manage the content and overall agenda of your speakers to ensure that they are all prepared and that their presentations are compelling.
Marketing
In a hybrid event, both in-person and virtual guests are welcome. This allows your organization to attract two (or more!) times the number of people to your event, demonstrating the importance of hybrid event marketing. Create a nice event website that includes all of the program details and send out emails to potential attendees to attract a large number of people.
Registration
The registration procedure for your hybrid event should be as simple as it is for onsite events. Create a branded event registration webpage with your organization's colors and event details so that potential attendees can quickly locate all of the information they need. Create separate registration channels for in-person and virtual guests so that they can sign up for the right sessions. Finally, keep track of those who haven't registered and send them an email reminder to do so!
4 Elements Of Successful Hybrid Events
Content, community, sponsorship, and analytics are the four pillars of any successful event. We'll go over how to put these elements together for a hybrid event in this part.
Content
Throughout the day, someone on a stage or podium will most likely be speaking directly to your onsite guests. This may cause virtual guests to feel excluded or even further removed from the action. To address this issue, have one of your event organizers speak to only your virtual participants. They can speak to participants about their virtual experiences in particular, as well as introduce virtual-only seminars or networking possibilities.
Community
At an event, onsite guests have the advantage of getting a firsthand look at the community. They find it much easier to network in person, have natural conversations, and form connections. There are, however, ways to bring this community to your online audience.
Sponsorship
Any event program relies heavily on sponsorship funds. As a result, your hybrid event must provide your sponsors with the same (or greater) value than an onsite event. There are a variety of strategies to get your sponsors in front of both virtual and in-person visitors while still providing high value.
Analytics
What you do after an event is just as essential as what you do during it. It's pointless to host an event if you don't learn anything about the virtual audiences or virtual components. Send out a post-event survey to find out which content resonated with participants and how they felt about their in-person versus virtual experiences. During the event, glance at the data of your attendees. Make a point of following up with anyone who attended a lot of sessions, asked a lot of questions, or interacted with your sponsors.
The last few months have been difficult for everyone. However, we have all gained a great deal from this experience. Being prepared is one of the most important skills we learned.
As we navigate these next few months of uncertainty, incorporating virtual and hybrid events into your overall event calendar will be a critical component of your event strategy. Live, in-person events will never go out of style, but having a backup plan never hurts. Make hybrid events a part of your life.
Future's Past Events is a company made up of highly-skilled, customer-focused Audio-Visual Arts Specialists who are experts in all related sectors and have over 25 years of Live Event Production experience.
We employ our extensive experience with a white glove approach for a select group of clients that are leaders in their respective business segments. True to pattern, our goal is to stay ahead of the curve in terms of technology and design concept advancements and to apply that innovation to a variety of events. Don't hesitate to contact us on our phone number (416)939-7525 or email us at [email protected]