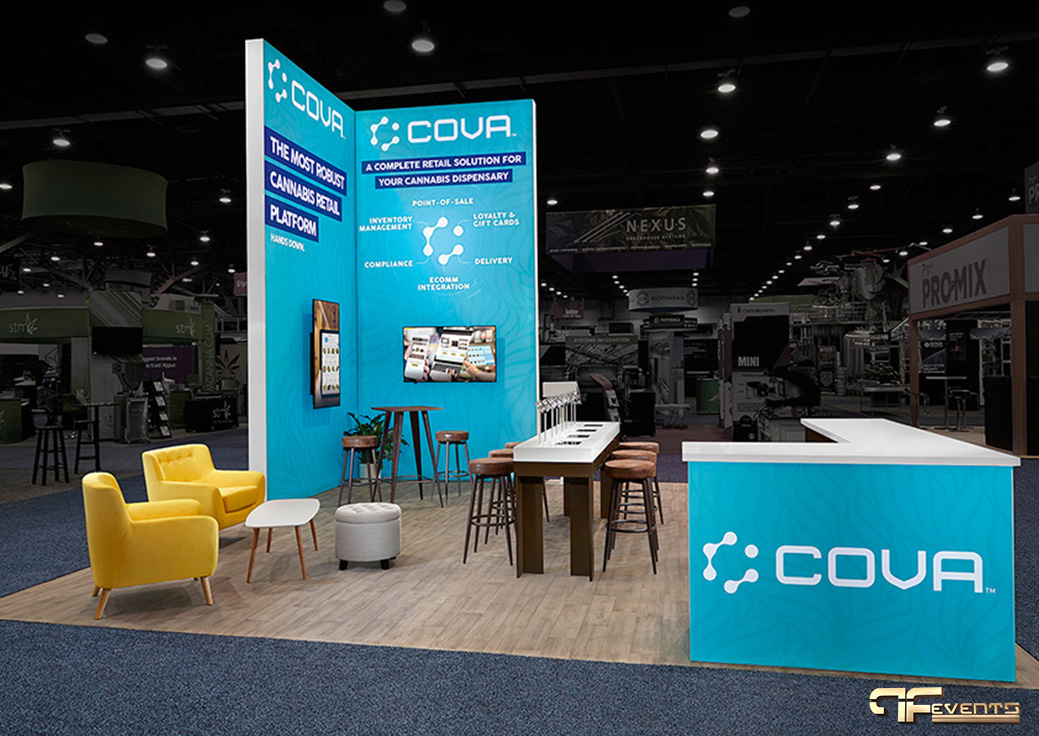 Imagine holding a trade show where you not only get to service your actual audience, but you also get to deliver a fantastic virtual trade show experience.
With such a fragmented industry, marketers devised a new strategy: hybrid trade shows.
Hybrid trade shows are defined as dynamic event that provides virtual participants with an outstanding virtual experience while also making a lasting impression on the physical audience. It manages to create a bridge between the online and offline worlds.
If you are looking for the right partner in the audio-visual production industry Future's Past Events are the best event organizers. Our goal, as is customary, is to stay ahead of the curve in terms of technology and design concept improvements, and to apply that innovation to a wide range of events. Planning your first hybrid trade show? Contact Future's Past Events today at (416) 939-7525!
Benefits of Organizing Hybrid Trade Shows
1. Hybrid Trade Shows Increase Audience Size Globally
The hybrid trade show's virtual and digital characteristics might enable you to visit continents and acquire leads from all around the world. In only a few clicks, you can get the word out about your hybrid trade show.
2. Convenient Approachability for All
Have trouble keeping track of travel time, costs, or time off from work?
You don't have to worry. Hybrid Trade Shows allow anyone to participate in the event without having to leave their home or place of business. It also allows specially-abled individuals who would not otherwise be able to attend the show to do so. These shows have the option of assisting unique folks with various talents and assisting them in taking advantage of the trade show. Not only that, but attendees who want a hands-on experience with your trade show may always visit the venue of your Hybrid trade show.
3. Hybrid Trade Shows are Cost-Effective and Efficient
The prospect of large venue spaces, parking facilities, interior planning, manpower, and other similar factors can be quite exhausting when arranging an offline trade fair. You may relax about all of that with a hybrid trade show because more than half of your audience will be online. The ups and downs that occur during the preparation process result in expenses that increase until the trade show is over. Hybrid Trade Shows provide a cost-effective answer to the complete list of these time-consuming duties. Most of these concerns are resolved, and your event becomes more cost-effective.
4. Accurate Metrics
Increased audience reach, increased accessibility, and cost-effective solutions all contribute to optimal trade show attendance. Your trade exhibition will be more successful if the attendance is higher. As a result, a hybrid trade show will help you increase your show's KPIs in every way compared to any other format.
Organizing Hybrid Trade Shows: Best Practices
1. Improve Interactivity Through Live Chat
The audience is the essential part of every event, and with your hybrid trade shows, you'll be serving both physical and virtual attendees. Managing crowds has made it much more difficult to draw visitors to the booth at trade exhibitions. The lack of in-person interaction between the online and offline audiences further piques the guests' attention. The best approach is to enable live chats for the online audience. This will help event attendees in getting their questions about products/services answered in real-time and exhibitors in lead generation.
2. Educate Your Audience Through Live Webinars
Your hybrid trade show will bring together the entire global audience in one location at the same time; ensure that each of your physical show exhibitors has a virtual booth that the virtual audience may visit. In addition, they can hire more personnel to oversee the virtual audience.
3. Make eCommerce Platforms Available for Immediate Sales.
Instead of focusing on presenting items and services, turn your hybrid trade show into an on-the-spot shopping experience for attendees. It could be the ideal opportunity to convert attendee engagement into immediate revenue at your hybrid events.
4. Using Social Walls to Increase Engagement
The Social Wall, also known as the Wall of Engagement, is a gamechanger for your hybrid trade show. It can be a fantastic way to connect your online and offline audiences. You have the opportunity to bring social media to your hybrid trade show in a way that is both distinctive and effective. The social wall will keep your trade fair attendees glued to their screens the entire time. You can utilize your social media wall to display your own content, user-generated content. Moreover, you can display brand content, announcements, highlights, discounts, offers, custom posts, sponsors, and so on.
5. Use Real-time Data to Assess the Success of Your Hybrid Event
In the case of the hybrid trade show, the event organizers are given thorough information on their progress, which can be used to track the event's performance and make modifications where necessary.
As a result, it's critical to have real-time access to the progress report in order to assess the success rate of your hybrid trade exhibition and plan future initiatives.
6. Use Creative Gamification to Keep your Audience Engaged for a Long Time
Are you concerned about the number of people who drop out of your hybrid trade shows or between webinars and conferences? It is critical to keep your audience/attendees' attention during the hybrid trade show or webinars. Adding gamification to your hybrid trade exhibitions ensures that every participant, both online and offline, participates since it bridges the communication gap and encourages them to participate more actively.
Our organizers can also engage attendees by hosting fun contests, polls, Q&A sessions, interactive games, and more.
Organize the Best Hybrid Trade Shows with Future's Past Events
Hybrid tradeshows are now becoming the most essential part of every business that wants to increase its visibility and gain more leads. To organize the best online event you need the technical support of professional event planners. Future's Past Events has a wide range of tools that are necessary to organize high-quality hybrid tradeshows. These include virtual event platforms, social media integration tools, engagement tools, live streaming tools, analytics tools, and so on. Still, looking for an av production company that will organize your first hybrid trade show? Look no further! Future's Past Events is ready to assist you. Call us now at (416) 939-7525!