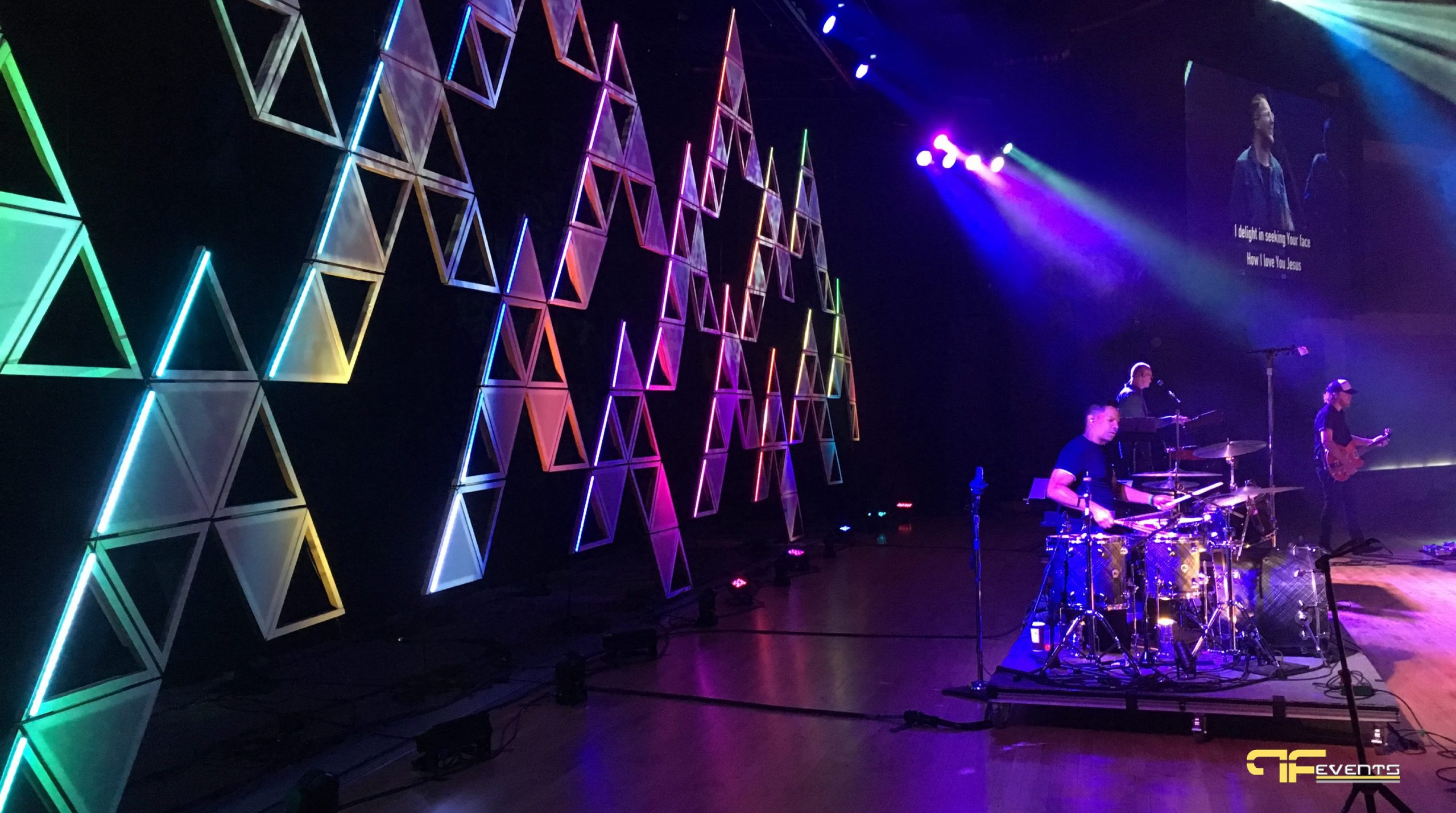 LED video walls are becoming increasingly popular at events. We know that content is king, and LED walls absolutely allow content to come to life. These completely customizable walls allow event planners to deliver seamless images that are scalable to any size or shape and look great from nearly any angle.
Projection displays are becoming a thing of the past as LED video walls take over, for several reasons:
LED video walls create their own brightness, so images appear more realistic, and vivid. LEDs are also not affected by ambient light in venues making them far ideal in outdoor spaces
LED video walls support our high definition world, whereas projectors are still displaying standard definition.
LED walls are super easy to set up and don't have as many limitations as a projector would.
Maybe we just love technology, but these walls are reliable, flexible and can make your content literally jump off the screen.
Future's Past Events is a full production services company that can use LED walls and other leading technology to not only wow your attendees but also strengthen your brand impression during your next event. In this regard, we offer you a few tips to make the most out of these glazing digital walls.
1. SECURITY
If you have a new security system with audio-video components, these LED video walls will obviously come handy. In the case of multiple TVs combined to one giant display, every single TV of the wall represents a single camera and shows you the recording in HD quality. We use a single large display to fragment the recordings display evenly throughout the screen. The kind of imagery and video quality captured on an LED video wall is incomparable to any standard monitor available in the market.
2. GAMING
Making a video wall can do your gaming experience to the next level.
Future's Past Events as a gamer, know the value of graphics and its smooth showcasing on the screen. These video walls give you a gaming environment that will make you feel almost real. The USP of these Video walls is that they have a large number of pixels to seamlessly pass all the color graphics to be projected on the screen, without any blur.
3. CONFERENCE
A video wall can help for your international or domestic conferences with its facility of showcasing interactive multimedia presentations. You can also collaborate with your remote colleagues and share the information from one site to another. In the case of a multi-TV video wall, you can project video, images, and graphs at the same time. It saves not only time but also business travel costs.
4. CONTROL SYSTEM
To look after a wide train or bus network, you need monitors that can show all kinds and amounts of media info on a single screen. A video wall can be used to manage and control all of the hardware and software systems, from a single or multiple screens LED video walls. The USP is that in case of hardware failure (which is the rare case), the dual controllers provide you downtime, to back up your data. Also, Future's Past Events is always there to help you.
5. ENTERTAINMENT
An LED video wall can provide you with an atmosphere that enhances the video, audio quality, and the overall atmosphere of the theatre. A large video wall with 2k or 4K resolution is enough to entertain the huge number of people in a single place.
Anyway, all of the above-discussed cases are doable when the video walls are of high quality. Ensure, to hire an ideal Audio Visual Rental Company, like Future's Past Events, to rest assured of the quality of such equipment to be used for your event. Make us a call or book an appointment, we will be ready to work with you.
Why would you choose Future's Past Events?
What is the best choice for Audio Visual Services for Toronto Events? During these changing times, the importance of remote communication has never been higher. At Future's Past Events we have adapted to this change, and by using state-of-the-art technology we offer solutions to your business needs.
For more information on Future's Past Events and to make your corporate events or other occasions, incredible make us a call at (416) 939-7525 or send us an email at [email protected]!