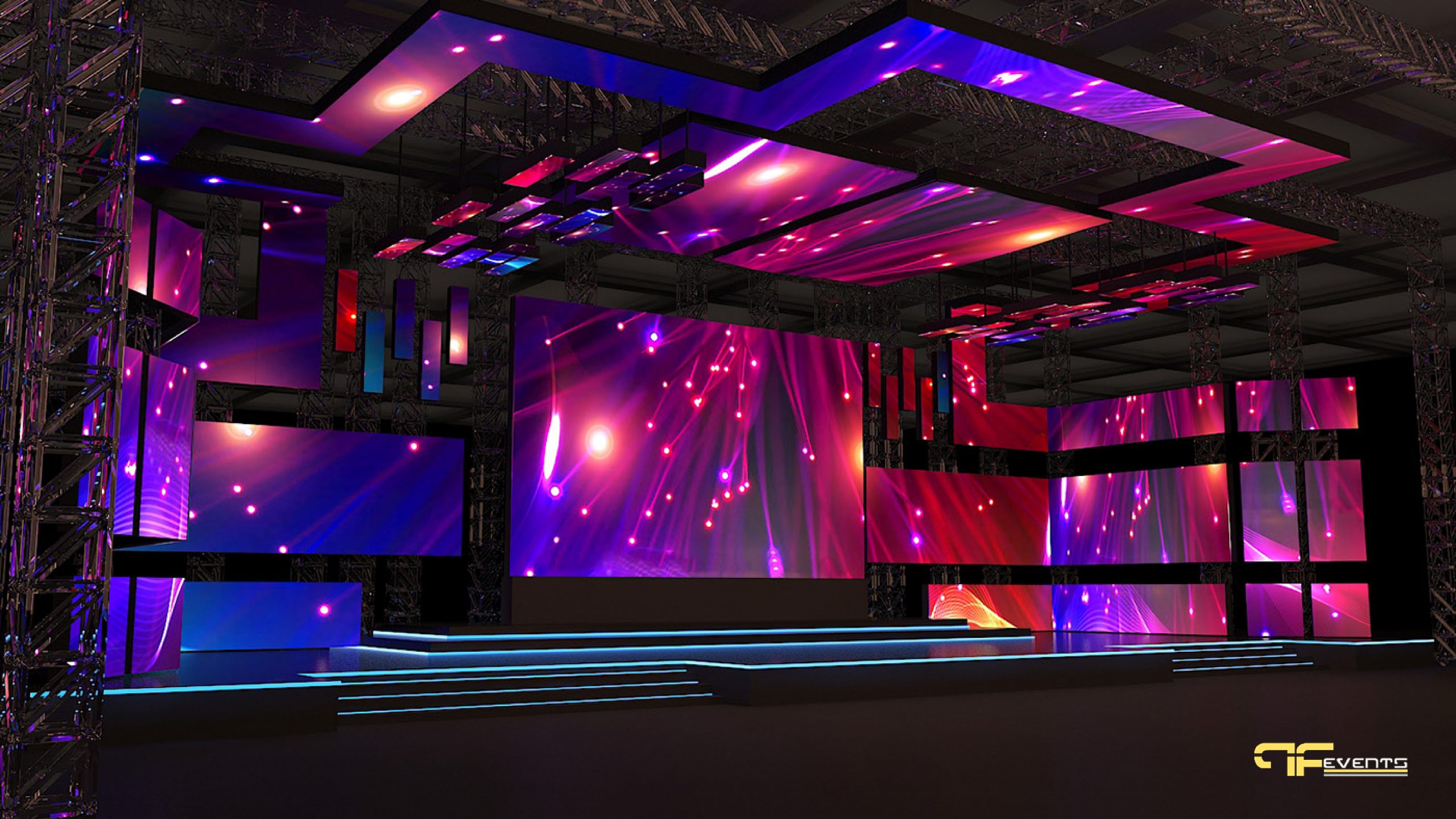 If you plan to rent lighting equipment for your event, Futures Past Events offers an extensive range of lighting rental Toronto options. Our lighting list includes items such as moving heads, wash lights, uplights, podium lights, rigging, truss; and so on. This allows us to provide proper illumination for any type of function. Also, our team checks regularly and works with high-end devices, so they are well versed with the latest technology. Futures Past Events regularly assesses our gear to make sure that it's in top condition and is satisfactory to our client's expectation. When you rent from FPE, we take the extra step to make sure you have basic knowledge of the devices. Furthermore, you will always have assistance from our team, who have been well trained and experienced in lighting setups.
The extensive range of our lighting, rigging, and cabling is certain to give the right devices for your event. Since one of our specialized services is lighting, we spend and reinvest strongly in this particular technique. This allows us to convey the newest, most power-conscious, smartest, simplest and most prolific devices. Futures Past Events has an inventory of lighting rental Toronto devices available for your next occasion. Our comprehensive inventory means that you can get the right devices when you need it.
Event Lighting Toronto
Want your event to sparkle? Contact FPE as your first choice for Lighting Rental Toronto needs. Our qualified team of technicians contains educated, qualified and experienced lighting developers. We understand and appreciate the art of lighting and can add the wow factor to your celebration, business meeting or even dance gala. Futures Past Events provides amazing lighting with excellent service from the time you choose our service until the last visitor leaves. Also, we won't cover up our inabilities with insufficient lighting; or overcharge you by using devices that are too big for your needs.
We know how to emphasize the best moments and help your viewers catch the soul of your occasion. Whether it's a dancing recital for 25 visitors or a night at the concert for countless numbers, we know how to best set the level for your display. Planning a style show? Lighting rental Toronto professionals at Futures Past Events will operate in the interest of the participants, even before the first style strikes the stage. Having prizes display for your guests or staff? Our expert lighting developers have been theatrically qualified and use those abilities to highlight such areas.
Booking Lighting Rental Toronto with FPE
The right lighting will emphasize all the big highlights throughout your event. Futures Past Events professionals will style and set up lighting that makes each part of your function shine. We guarantee that every time you use our rentals, you will be satisfied.
With that in mind, we trust you discover these visuals rental options appealing. If so, do not hesitate to contact our team by filling out the form below, emailing [email protected] or calling (416) 939-7525.
You will get a response in 24 hours or less.. But while you are waiting, slide over to Futures Past Events social handles to see some of our previous work – Facebook, Instagram, Vimeo, and Youtube. We promise you will be intrigued!