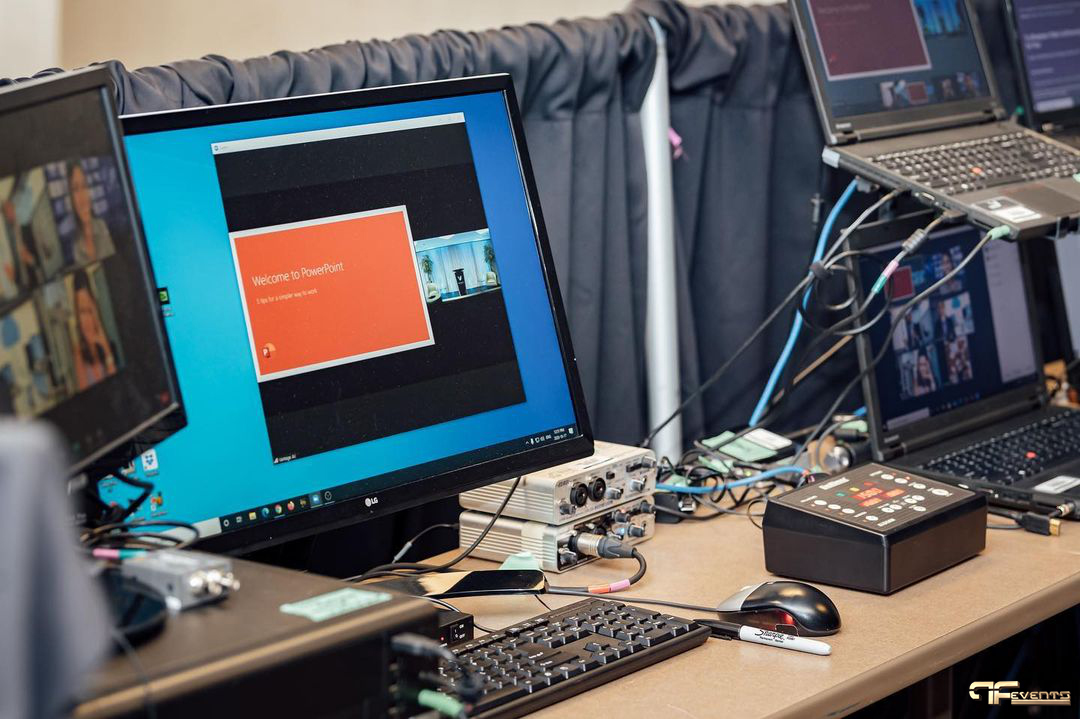 Organizing a virtual event has become extremely essential for many businesses over the past few years. Virtual business events are probably going to continue even as things eventually return to "normal." Organizations have learned there are many advantages to having meetings, conferences, and other events online, from lower costs to the potential to scale their guest lists abroad.
If you want to organize your company's next virtual event and want to guarantee a large turnout and design a productive structure that will keep audiences and visitors interested you should consider hiring Future's Past Events. Future's Past Events makes sure to provide you with the best virtual event services in Toronto. Don't think twice! Organize an outstanding virtual event with Future's Past Events.
The Strategy We Follow During the Organization Of a Virtual Event
Add A Physical Element To Promote Connectivity
The same essential elements that characterized effective engagements before Covid continue to exist as we resume some semblance of pre-Covid regularity with events. A successful online event serves as a link to a physical offline activity. Nobody wants to be on a Zoom call with someone all day. We add a physical component, whether it is a wine tasting, an icebreaker activity, or another event, to promote genuine and deep connection.
Avoid Attempting To Virtually Recreate The Real World
The real world and the virtual world are two distinct universes that exist to work in tandem rather than in opposition to one another. Profit from the fact that you may virtually reach a much larger audience. Because of this, the digital world has a sense of inclusivity that will, in the long run, be beneficial to both your event and your company.
We Make Sure That The Virtual Event Is Compatible With Other Online Activities
We make sure we provide you with a virtual event that is compatible with the other online experiences available today—imagine Netflix meeting LinkedIn. Our professional team uses a variety of material types, including always-available video-on-demand and engaging live events and interactive workshops. Make sure individuals can engage, network, and interact, of course. We also think about hybrid event services when it comes to hybrid environments, and keep the overall picture in mind.
Give Opportunities For Interaction and Networking Throughout
Rather than having speakers talk down to attendees, the finest virtual events offer opportunities for interaction and networking throughout. The capacity to connect with one another has been lost in the virtual world. Therefore it's more crucial than ever to take advantage of chat capabilities, surveys, and Q&As. As well as schedule meetings with participants for discussion and discourse in breakout rooms.
Consider The Effectiveness Of Each Session In The Virtual Event
We think about the quality of each session and make sure there is coherence between all of the sessions. Whether you are creating a multi-session offering on a single day (or multiple days in a row) or you are conducting a series of smaller sessions staged over a longer length of time. Each session should be valuable and enhance the entire experience in order to encourage single attendees to attend numerous sessions.
Try A 3D Setting Designed Specifically For Virtual Events
We at Future's Past Events strongly suggest you consider using one of the 3D worlds designed for virtual meetings, conferences, and business encounters. In recent years, we've organized numerous hybrid and virtual events using avatars in 3D worlds as a speaker, exhibitors, and attendees. Without a doubt, virtual events organized in a 3D environment are superior to the other virtual events we have organized.
Add Value With Offline Components
Even though we are organizing a virtual event, there can still be offline elements that benefit the attendees. For instance, you may send tangible welcome packages filled with freebies or branded apparel to virtual conference attendees. You can also ask them to shoot photographs of themselves to share and tag on social media. Also, you can provide a reference booklet as a takeaway for webinar participants.
Interact More With Smaller, More Specific Events
The simplicity with which participants may interact with one another and forge personal connections makes physical events superior to massive virtual events. Smaller, more concentrated virtual events have proven to be significantly more effective at fostering better interaction and engagement.
Communicate Clearly The Benefits Of Attending a Virtual Event
Producers of virtual events must make it obvious why going to the event is worthwhile. We at Future's Past Events make sure we provide our customers with outstanding audio-visual production services. The success of the virtual event depends heavily on presenting a compelling value proposition and outlining what attendees will learn, encounter, or feel by attending.
Permit Registration for Particular Sessions
A virtual event can be greatly made up for with dynamic content and vivacious presenters. If possible, stay away from recorded, scripted sessions. Live presentations are more interesting, albeit they require better preparation. Instead of enabling registration for the entire event, this method is way more effective.
Hire Future's Past Event To Organize an Outstanding Virtual Event
Future's Past Events is the leading audiovisual production company in Toronto that provides its customers with the best hybrid events, virtual events, corporate events, and tradeshows. 
Being in the audiovisual production company for 25 years has given us the opportunity to perfectly organize any type of event. Planning to organize a virtual event that will increase the visibility of your business? You already know where to find the best audio-visual production company. Call us on our phone number (416)939-7525 or send an email at [email protected]!