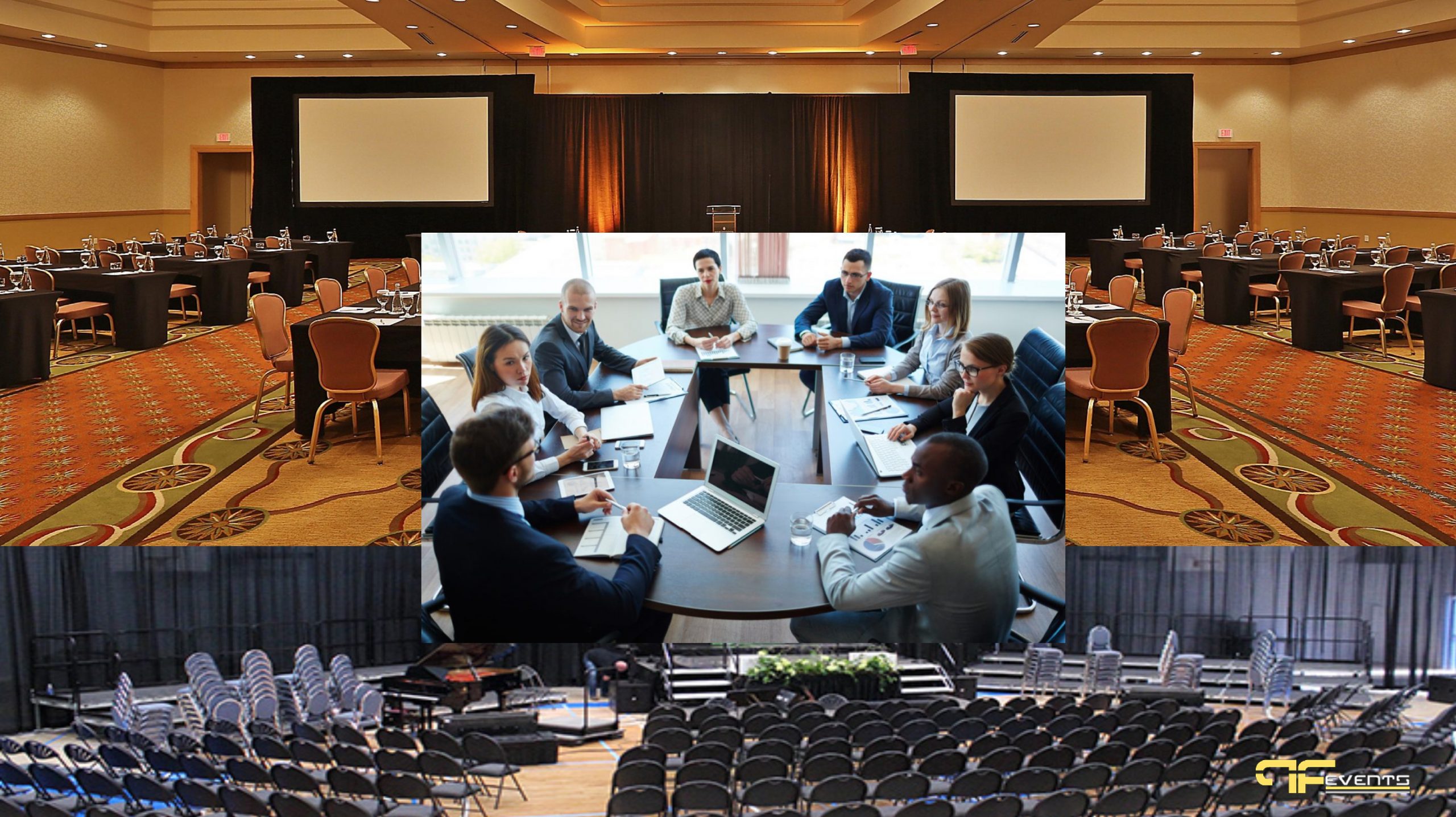 Futures Past Events as a company that has worked with hundreds of event organizers, has the confidence to say that the conference organizers are some of the clever people we have known. You have to know that organizing a conference, is not as easy as you might think. A conference organizer has a job that is related to choosing the speakers, venues, event day to the conference themes, and marketing & promotions of the conference.
Another hassle point with nowadays conferences is travel & accommodation of attendees. Adding to it, You are also expected to take care of breaking the ice between attendees.
With different genres of conferences being hosted every day ranging from Local Business Conference to the biggest in town, how can you weather the storm, too? We've pooled our Conference market research along with some industry experts and are excited to bring you five tips from our expert organizers aimed to help you make your next conference a huge success!
1- Hire a professional team Like FPE
Being the conference organizer, the entire responsibility of the conference is upon you. In case your conference has a large number of attendees and is spread over multiple days, there will be so many things to look at and you won't be able to play your "One Man Army" card.
It makes sense to assign different tasks to different teams and appoint a head of these teams to overlook.
2- The Key to Success?
Conference Planning is not as easy as it sounds. After deciding on your Core Team, the brainstorming for Conference Planning can be started. Conference Planning usually starts around 15 months before the conference and goes up to one day before the conference. This certainly requires a lot of advance planning.  Often there is so much data shared across different individuals ( or teams) that things can go a little messy. The following tools will make your life much easier and free to use.
Handy Tools
Google Drive for Cloud storage of data
Trello & Asana for To-do lists for all team members.
You can also use the following workflow for your reference.
3- Do Marketing & Promotion
These are essential aspects of Conference Planning. Marketing is a must for any conference. The core of Marketing is to understand the needs of your attendees & developing a product around the same. Based on your needs and the demography of your audience, you can further decide on marketing channels for your conference.
Digital Marketing Points
It provides value to the attendees creating loyalty to your brand.
Informs the attendee and gives a clear picture so he/she can decide accordingly.
Digital Marketing is less expensive and more efficient than Traditional Marketing.
Creates viral content that links with the conference.
Another point is that it creates reciprocity among attendees long after the conference is over.
MEDIUMS: SOCIAL MEDIA, ADS, EMAILS, AFFILIATES
Traditional Marketing
Wider Audience Available.
Government data shows only 26% of Indians are using the Internet. So, a target market out there that is yet to be targeted.
Only holds attention for a short time ie only before or during the event
Tends to be expensive and difficult to track the ROI
MEDIUMS: RADIO & TV ADS, NEWSPAPER ADS, HOARDING & BANNERS, FLYERS.
4- The only day that matters!
After months of hard work and planning, the big day has come but is essential to maintain your calm and composure. Some strategic tips:
Review your ideal timeline for the day.
Take one last look at who in your team is handling what during the event.
Ensure that everyone is on the same page.
Keeping some extra chargers, printers & other stationery. This will surely help if something goes missing or is out of order.
If the payments of some vendors are yet to be paid, offer them to pay with interest after the conference
5 – Wrapping up your conference!
Important steps:
A feedback and suggestion desk can also be set up to get all the feedback & suggestions for future conferences.
The Photos & Videos can be uploaded to the website and Social Media.
Mail feedback to all attendees along with a customized thank you note.
You can also send handwritten notes & appreciation letters to everyone who worked tirelessly with you!
Make sure to have a "lost & found" section for the attendees so that they do not lose any personal belongings.
It is also customary to return all the equipment to the vendors as early as possible.
Our research shows that more than 10000 conferences are organized every year. Every day, new conferences are posted on our ticketing platform. How does an organizer make sure that your event is successful and stands out amongst this sea of conferences?
Why choose FPE as your partner?
We transform your event from usual to extraordinary through our quality LED screens and lighting fixtures. With an array of decorative and functional lighting options on display, we ought to be your ultimate choice. Furthermore, the industry's best audio & video trussing makes us capture the attention of our clients again and again and again!
Contact Future's Past Events for your upcoming meeting or conference. We provide complete assistance for all your events instead of just renting out equipment. Call us at (416) 939-7525 or send us an email at [email protected].