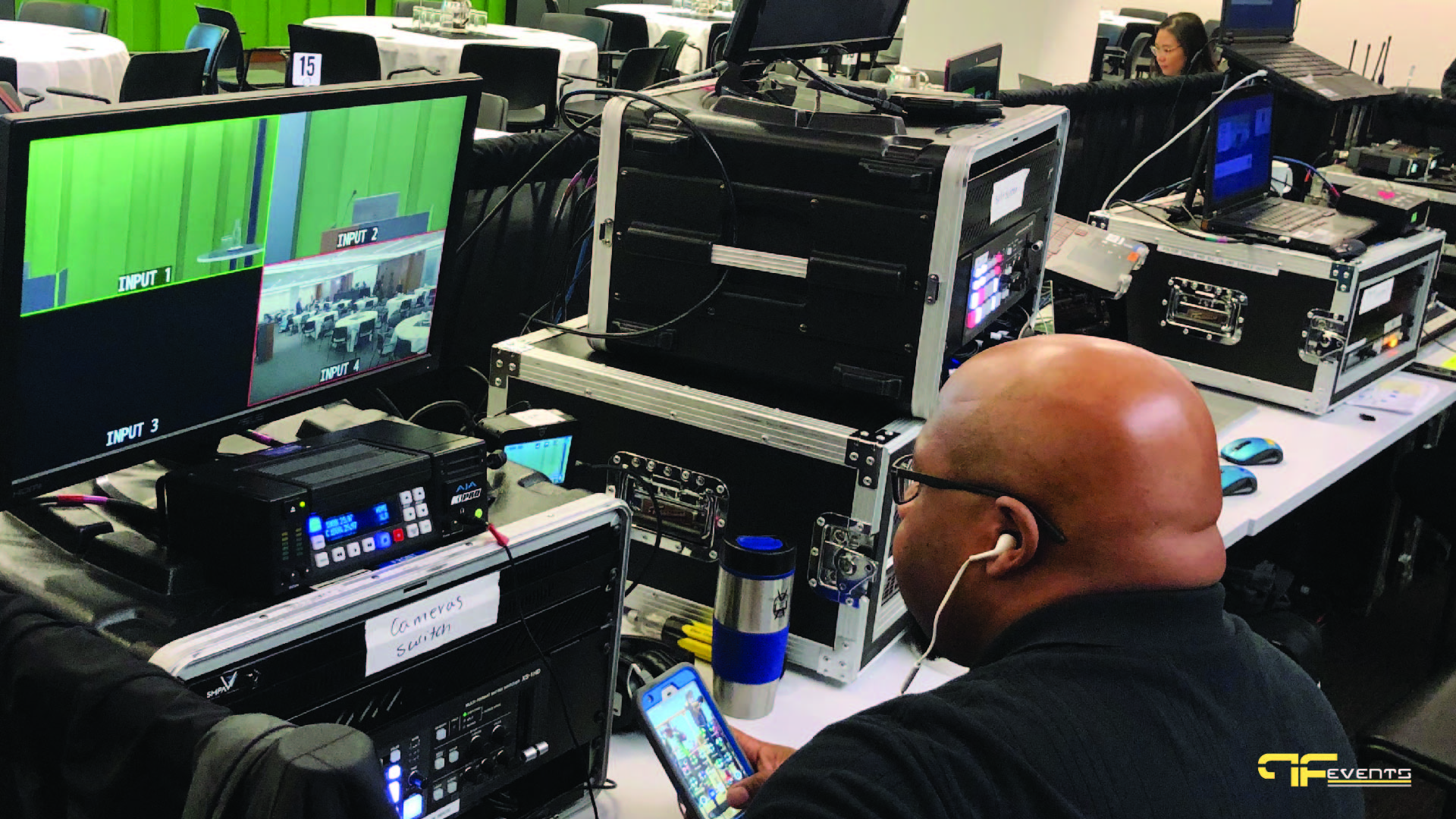 Of course, we understand every business concern related to recent events or corporate meetings that they have to cancel as a result of the COVID-19 virus and the potential impact on upcoming events for the foreseeable future.
Only over the past week, COVID-19 has caused an unprecedented amount of change in the live events industry. A lot of meetings and gatherings have been cancelled.
FPE wants to let you know that we equally share your concerns by offering our clients multiple event-specific solutions. If you and/or your company are in need of still communicating and sharing information we have the right platform for you. We have teamed up with SMPAV to bring you the best webcasting options through the zoom platform.
Zoom Meetings & Video Conferencing
By leveraging the well-established Zoom platform and in-house developed infrastructure, our solutions offer seamless live capturing of any source, from slide content to Excel spreadsheets, whether it is a live video or a remote presenter joining via video-conferencing. Zoom is 100% platform agonistic, full support for mobile devices and fully interactive with chat functionality and private messaging through the intuitive Zoom application.
We offer:
HD Video and Audio –  we are able to cover HD video and audio to your meetings with support for up to 1000 video participants and 49 videos on the screen.
Built-in collaboration Tools – if your meeting, has multiple participants, all of them have the opportunity to share their screens simultaneously and co-annotate for a more interactive meeting.
Meet Securely –  end-to-end encryption is the best manner to realize secure zoom meetings, role-based security, password protection, waiting rooms and place attended on hold.  
Unparalleled Usability – using Zoom Rooms you have quicker adoption with meeting capabilities that make it easy to start, join and collaborate across any advice.
You can join anywhere, on any device – This Method syncs with your calendar system and delivers streamlined enterprise grande video conferencing from desktop and mobile devices.
Video For Every Need –  Zoom Rooms give you the opportunity to enable internal and external communications, meetings, and training through one communications platform.
Zoom Rooms / Connected Rooms
Zoom rooms tackle the three biggest pain points of the conference room, starting a meeting, booking a meeting and sharing content. Zoom is ideal for the best conference room experience optimized for modern use cases.
Zoom Rooms allows you to easily share multiple desktops simultaneously in the room and provides a variety of simple, wireless sharing options for guests and people on your network.
Why Zoom With Us?
We provide professional HD streaming at an unbeatable cost anywhere in the GTA with full redundancy at no additional cost, included in all our packages:
1080 HD Streaming x 30 frames per second
Live capturing content/video in split-screen format
Redundant encoders, redundant LTE internet
Professional IT staff, 20+ years of streaming knowledge
Why wait, contact us here and go Zoom!