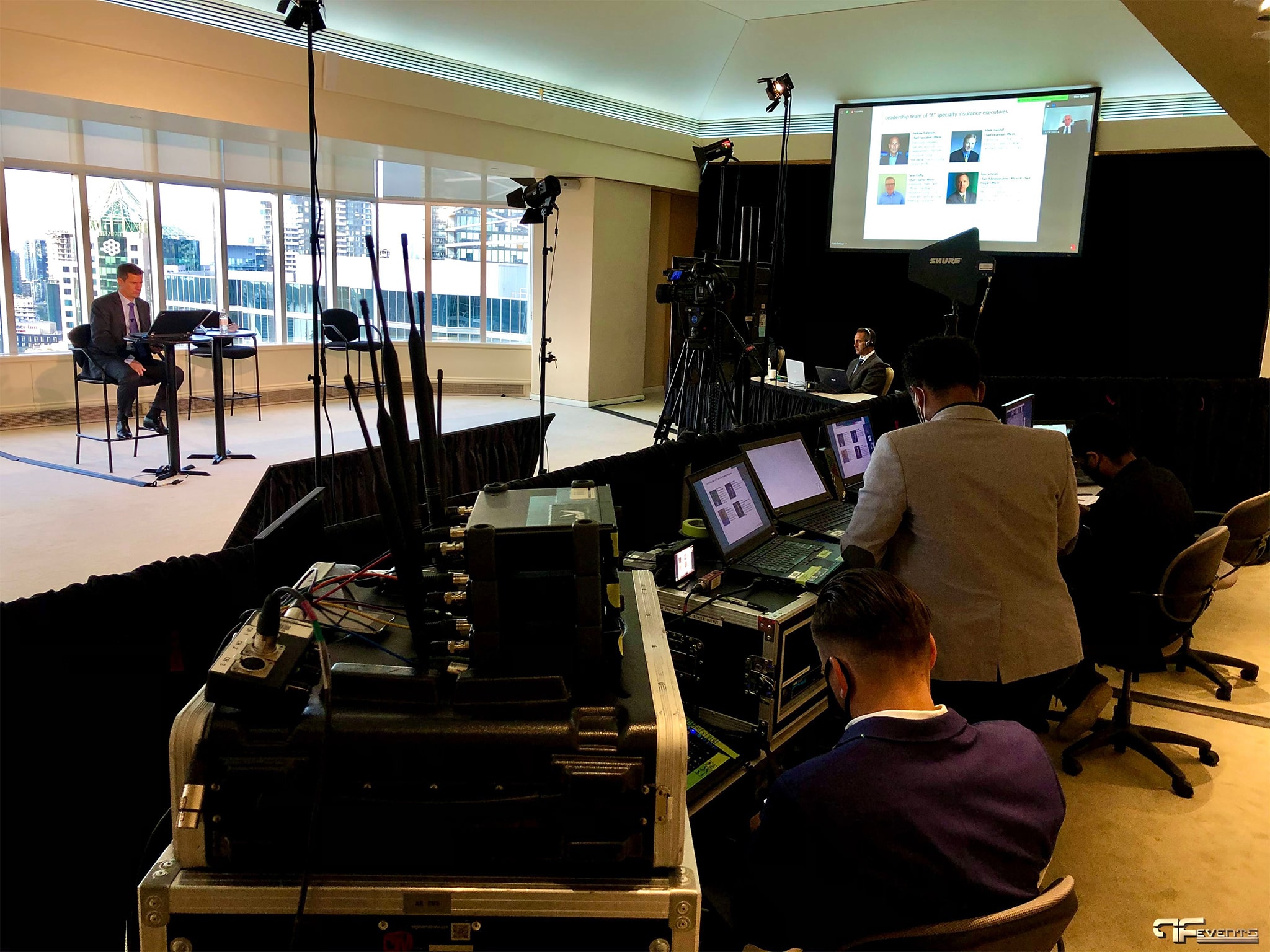 We will leave live events out here given the current circumstances, but we will review this topic after it is safe to let our minds wander in the future.
Now with the vaccines, there may be opportunities for virtual events with live components sooner or later. So here is how to choose between the two:
Select the hybrid if:
You can safely attend a live component
If the event and its content translate well for a live audience
If attendees state that they are interested in participating in the live component
Select virtual if:
If in doubt, you can not make the live component safe
Your content is best translated through video
Your event has a small budget
Benefits of hybrid events
Even before the pandemic, hybrid events were growing in popularity because of their ability to reach a wider audience, improve event ROI, and provide valuable data points that companies could not get to live events.
Wider audience. Having a virtual component reduces financial barriers and assigns conflicts to many presents. Not only will hybrid events appeal to your core audience, but they will also appeal to your secondary and tertiary audience with the virtual component. This means that people who would not have registered for the event directly, due to the engagement, will be more interested in "trying out" your event with the virtual component. 96% of virtual users surveyed at a hybrid event said they would not register if it was a live event, and 27% said they would be more likely to participate in the event in-person next time.
Improved ROI. An increase in participants means a better ROI with more tickets sold for the event overall. The virtual component can also reduce future marketing costs by using keynote speakers and promotional content sessions.
Better data. The internet is always watching and it does not change with virtual events. Ok, what we are trying to tell here is that everything is tracked because the virtual component is online. This data helps enormously when planning your next hybrid event.
Tips for attending a hybrid event in 2021
Market your event
Negotiate vendor contracts and reduce the size
Security needs to be a top priority for the live component
Create personalized registration trails for virtual vs hybrid attendees
Do not sell a ticket directly
Plan your first attractive virtual content
Hybrid events should all be for simulations
Offer your content on-demand for a longer commitment
Offer your content on-demand, but just for a limited time
All hail sponsors
Make sure your event management program favours your sponsors
Have an onsite MC dedicated completely to your virtual participants
Bring virtual and direct participants together with networks in hybrid events
Submit polls before, during and after the hybrid event
Make a Doomsday Plan
1. Market your event
We mentioned above that one of the advantages of a hybrid event is a wider audience. You are already well acquainted with your core, essential audience and hope to know how to tell them. You will also need to think about personalized marketing messages for your secondary and tertiary participants. Yes, that means you will have to go through some data and develop a persona, but we promise it will help you in the long run.
2. Negotiate vendor contracts and reduce the size
Hybrid events have a live component, so you will need to find vendors, who historically have to cancel months in advance for every money in return. So it's time to start negotiations for longer cancellation windows and lower cancellation fines. But let's take a moment to reiterate that we're all in this together and that we're not trying to lower the ball to anyone. Make a deal that is just as helpful and fair. It can look like about 25% of your deposit even if you cancel two weeks ago.
It would also be helpful to consider reducing the size of the scene. This will help save money but also calculate smaller contributions for live components in 2021. It may be the perfect time to experience that outdoor setting you have been sitting in.
3. Safety needs to be the top priority for the live component
This one should go without saying, but we will go there anyway. Your live component will be an absolute bust if you do not make sure your participants feel safe. Don't expect them to go there to find out. Assure them in your marketing emails that you are taking all precautions: masks, cleaning stations, on-site cleaning, social distancing and staff there to help enforce these requirements.
4. Create personalized registration trails for virtual vs hybrid attendees
Nothing makes a participant feel as special as the personalization. Keep both registration paths separate and personalized for the sessions, so it is completely important for both types of participants: virtual vs hybrid.
5. Do not sell a ticket directly
Have you noticed that we said virtual vs hybrid? Not live. Do not sell a ticket only live (at least now). A thing we know is that nothing is clear. You just do not know if you will have to cancel the live component, if the participant no longer feels safe to participate, or if they will feel bad. Selling a hybrid ticket gives attendees the flexibility to participate in the component live, but ensures they will get the information anyway.
6. Plan your first attractive virtual content
Have we still beaten a dead horse saying your hybrid event needs to be the first virtual one? Make sure you are planning content that you know will be appealing to a virtual audience and arrange it to make it appealing to a live audience as well. This can mean different lengths of sessions, sessions recorded before live broadcasts and live surveys or Q&A.
7. Hybrid events should all be about simulations
Simulation is to have a pre-recorded session for virtual and live audiences and then have the speaker (s) online at the event to answer questions through conversation during the recording. The speaker (s) can also follow up with a live Q&A afterwards for longer answers. For the virtual audience, if they enter the session late, it will not start early. It will be like entering a live session late so that the participant can follow the conversation in real-time.
8. Offer your content on-demand for a longer engagement
On-demand content is truly the best of both worlds – you are helping your virtual participants, sponsors get more attention, and last but not least, your brand/event stays in their minds for longer. The virtual part of the event can be watched by anyone all over the world, which means a huge change of ole time zone. On-demand content allows global participants to receive information at a time that works for them. It's generally nice for virtual participants because if the days of the sessions are long, most of them will not be sitting in front of their computer for 10 hours in a row watching the sessions. Upon request, it allows them to vacation and not miss any of the contents.
9. Offer your content on-demand, but just for a limited time
If you offer your event sessions on demand for many months after the event, the excitement will die. Offering it for a limited time, whether a month or 1-2 weeks, gives attendees time to absorb the content they wanted while not putting it completely on the back burner. Limited Availability Aka stimulates excitement and encourages immediate action.
10. All hail sponsors
We know that's not a tip, but the sponsor section is not a line. Hybrid events are what belong to the sponsors. Since hybrid events have a much larger audience, your sponsors will get double publicity. It also creates new opportunities for brand recognition and lead generation. The more explosure you can bring to your sponsors, the more money they are willing to earn.
11. Make sure your event management program favours your sponsors
Make sure your program makes it easier for your attendees to schedule appointments with your sponsors or "drop-by" the virtual booth. Showing your sponsors the comfort of using virtual booths will make them feel better and excite them about the event. It is also important to note that your event schedule should allow you to create a personalized drool-worthy sponsorship site. A unique sponsor page perfectly created will help participants stay longer.
12. Have an onsite MC dedicated completely to your virtual participants
Your live component participants will have someone to guide them through their day; why shouldn't they be your virtual participants? Close your eyes and imagine… Oh, wait … Then you can not read. Imagine on your virtual portal, a live emcee that can talk about what's coming next as well as what's going on in the live component. You will feel like you are there! Except you won't have to stay on the Starbucks line for 24 minutes … damn it. The emcee can address virtual attendees about their experience, highlight specific sessions or networking opportunities, and remind them to stop by the virtual sponsor booth. This helps the virtual attendees get the most out of their experience and if you hire a good emcee, you might get a comic relief (our favourite).
13. Bring virtual and direct participants together with networks in hybrid events
In addition to content, networking is one of the main reasons people attend events, which does not change for hybrid events. The trick to hybrid events is bringing together virtual and direct attendees.
14. Send surveys before, during and after the hybrid event
With the world in a pandemic and people discovering how to work from home while educating their children at home, there are many unknowns. Attending an event should not add extra stress to a participant. Sending a pre-event survey to ask what participants are present or concerned about can help you answer those questions before the event starts. Pre-event poll = less stress for you and your participants.
Sending short surveys during the event can help you get immediate feedback on what is going well and what can be improved (if the event is multi-day, you may be able to make a quick fix). These polls can be set after a broadcast or simulated session, for example, when attendees have feedback–good or bad.
Post-event surveys will be the most important and will provide general feedback for the whole event. This feedback is so important for attending future events and keeping your attendees happy.
15. Make a Doomsday plan
Think of anything that might go wrong and make an action plan of what to do if it happens. The whole virtual platform collapsed ?! Keep calm and follow your checklist. Should you cancel the live component ?! Breathe in, follow your checklist, and send out your unsolicited email. Having a plan if things go wrong makes it less stressful overall. And if you are really lucky you will have the Swoogo customer support team on your side.