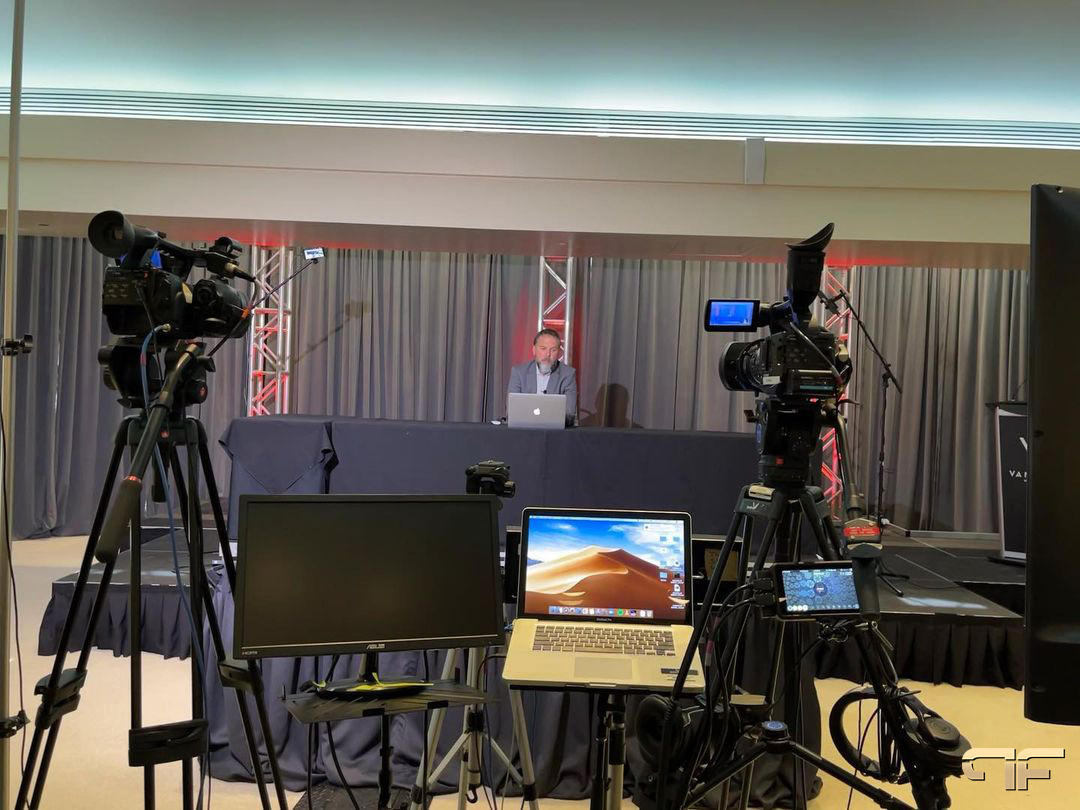 The right audiovisual (AV) planning can make your event. And Future's Past Events has seen it all. Our dedicated staff has helped event planners to plan extraordinary events. Because of our experience, we have witnessed anything that could go wrong with your AV set on the day of your event.
Below, we've made a list of 11 tips to help you prevent AV issues on the day of your event and avoid the mistakes we have seen others make:
1) Rehearse presentations and speeches before your AV event
Like any professional production, you should rehearse. Understand the time limits for your presentations and look at the content in advance to move forward with any possible issues.
2) Coordinating suggestions for slides, music, and lighting
Help your presenters avoid difficult breaks and technical errors. Plan before for musical accompaniment, lighting changes, and slide transitions. Your attendees and presenters will appreciate the smooth distribution of your content and get more enjoyment from your event.
3) Finish presentation times, speaker preferences, and equipment needs
Leave nothing to chance on the day of your event. Understand your presenter's AV requirements and call their time per minute. See closely every detail so that you can eliminate as many problems as possible during your event.
4) Know your budget ahead of time and use professional planning tips
Before you contract with an AV company or buy equipment, know how much you have in your budget. Ask a professional for advice if you are not sure how much money to spend on your AV equipment. You do not want to be surprised by the unexpected costs.
5) Work from the big to the smallest detail (i.e., plugs, sockets, etc.)
Small AV components are some of the most important (and unfortunately most overlooked) devices for your event. Start with your big AV needs and move on to the smallest component required. Make sure each device has what it needs to function normally on the day of your event.
6) Consider your space and how your AV configuration will affect the surrounding activities
AV equipment planning involves more than just the right equipment at the right time. It also includes planning the space you need and how audio and video come together in your event. For example, you do not want to block footpaths with large appliances or place a speaker directly in front of a vendor booth.
7) Develop your AV event needs in parallel with your plan, not at the last minute
Based on the previous point, make sure you see your AV requirements as you plan your event. Look at the big picture and check your AV requirements with every aspect of your plan. After all, most features of your event will require some degree of audio or visual support. You do not want AV devices to surprise you during your event.
8) Focus on the engagement, impact, perspectives of your participants and content delivery
When planning your AV device setup, consider how it will impact your audience. Be sure to include audio and visual effects in a way that maximizes value for your participants. Look at it through their eyes. Create an environment that focuses on engaging and delivering content.
9) Understand your country's policy on how to use external AV devices
Imagine spending thousands of dollars on AV devices, only to discover that your country has limitations on what you can bring and how you can use it. The last thing you want is to waste time and money on devices you can't use. Before making an AV plan, talk to the management in your country so that you understand what you can and cannot include in your event.
10) Use your country's existing AV equipment to save time and money
On the same line, you may be able to use your country's existing AV equipment for your event. If they have speakers, electrical outlets, Wi-Fi devices, or monitors – you may be able to use them for your event. Using existing equipment can help you save time, money, and a lot of sweat.
11) Test your equipment first and do a dry run for every situation
Plan everything for every situation, even if it seems unlikely to happen. Unexpected obstacles can overturn the entire chronology of your event and disrupt your agenda. If it can happen, it probably will in a moment. So, you can prepare for everything.
In Conclusion
Preparation is the key to success. And no one knows this better than event planners. Pay attention to detail for your AV management in the same way you do for your event planning. You will be glad you did.
Follow the tips above to maximize the impact of your AV planning and avoid issues that take time during your event.