Welcome, event planning of the future! Due to the popularity of hybrid event audiovisual, we now have the chance to create outstanding experiences that expertly combine the dynamism of live events with the accessibility of online interactions. To help you create immersive, interesting, and unforgettable hybrid events that will raise the bar for the sector, Future's Past Events provide the techniques for utilizing audiovisual technology to its fullest potential in this blog. Get ready to fascinate your audience and transform the way attendees experience events!
Understanding Hybrid Event Audiovisual Role
Audiovisuals significantly impact attendees' treatment at hybrid events, significantly impacting the overall experience. Tools enhance participants' connection, physical and virtual, beyond information dissemination. Event planners may design exciting presentations that fascinate audiences and have an influence long after the event. These elements may elevate a typical event into something special, from visually appealing slideshows to compelling video material.
Integrating sounds and visuals between physical and virtual locations creates a sense of engagement for distant participants. Global participants experience life-changing audiovisual storytelling through cutting-edge technology, bringing together participants from diverse backgrounds for a transformative experience.
Choosing the Right Equipment
For hybrid events to be successful, choosing the appropriate hybrid event audiovisual equipment is significant. Whether the event is in person or online, every piece of equipment improves the event's overall quality and experience. 
Quality Matters → Purchasing top-notch machinery is fundamental. Prioritize equipment with high resolution, clear audio output, and dependable operation, including cameras, microphones, projectors, and screens. Choose well-known companies recognized for their audiovisual competence.
Integrity & Compatibility → Ensure that various hybrid event audiovisual elements are seamlessly integrated. Verify that the hardware you choose is appropriate for the platforms and applications you intend to use. This coordination is essential to preventing technological issues at your event.
Reliability → Choose reputable, widely recognized hybrid event audiovisual companies with a history of providing dependable hybrid event audiovisual solutions. To minimize unanticipated problems during your event, reliability is essential. Future's Past Events emphasizes providing customized hybrid event audiovisual support for unique event requirements. Utilize advanced tools for seamless integration of real-world and virtual components, ensuring an immersive visitor experience.
Accessibility → Choose technology that is user-friendly and accessible for presenters and event organizers. An easy-to-use setup saves time and lowers the possibility of technical problems.
Design a captivating experience by carefully examining variables and making informed decisions to leave an impression on your audience.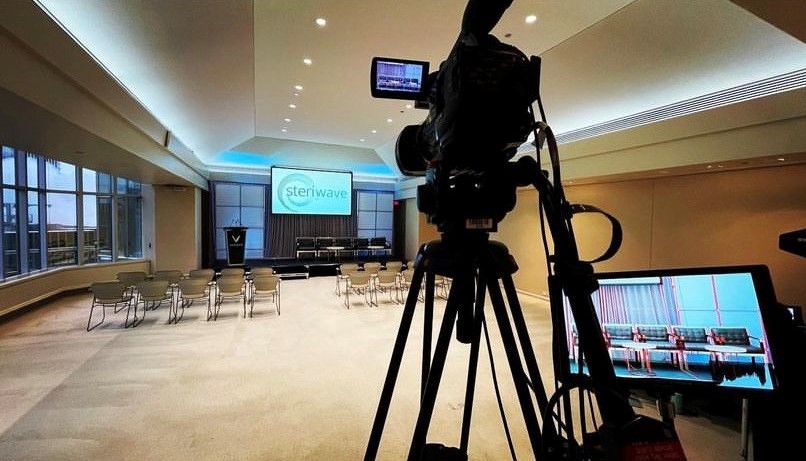 Seamless Hybrid Event Audiovisual Integration of On-site and Virtual Elements
For a hybrid event to be effective and inclusive, on-site and online components must be fully integrated. Create a hybrid-friendly agenda to ensure equal connection for all participants, regardless of presence. Additionally, consider time and content for seamless transitions between in-person and online sessions to keep attendees engaged.
Moreover, opportunities for virtual networking are essential for promoting relationships among individuals who are located far away. Virtual attendees can network, share ideas, and actively participate in conversations by using virtual breakout rooms, online chat platforms, and interactive Q&A sessions. Interactive elements like polls and live quizzes encourage participation from both in-person and online audiences, fostering engagement and value.
Engaging Remote Participants
A successful hybrid event requires remote participants to feel connected and involved. Event planners must put a priority on interactive and immersive experiences designed for the virtual audience in order to accomplish this. Live streaming of on-site events closes the gap between actual and virtual attendees by enabling remote participants to witness keynote addresses, presentations, and other live moments in real time. Additionally, interactive elements like polls, quizzes, and immediate reaction options keep distant attendees interested throughout the entire event, enabling them to actively participate in discussions and feel appreciated as a part of the experience.
For developing connections among remote participants, it's essential to offer possibilities for virtual networking in addition to interactive material. Through the use of interactive Q&A sessions, online chat platforms, and virtual breakout rooms, virtual attendees can interact with presenters, speakers, and other participants, fostering deep connections and collaborative efforts. Furthermore, a second way that video conferencing solutions can be used by event planners is to provide two-way contact between attendees who are present in person and those who are not, ensuring that the questions and comments of distant attendees are answered in real-time.
Hybrid events can make all attendees feel included and immersed, regardless of where they are physically located, by giving remote participants priority in terms of interaction.