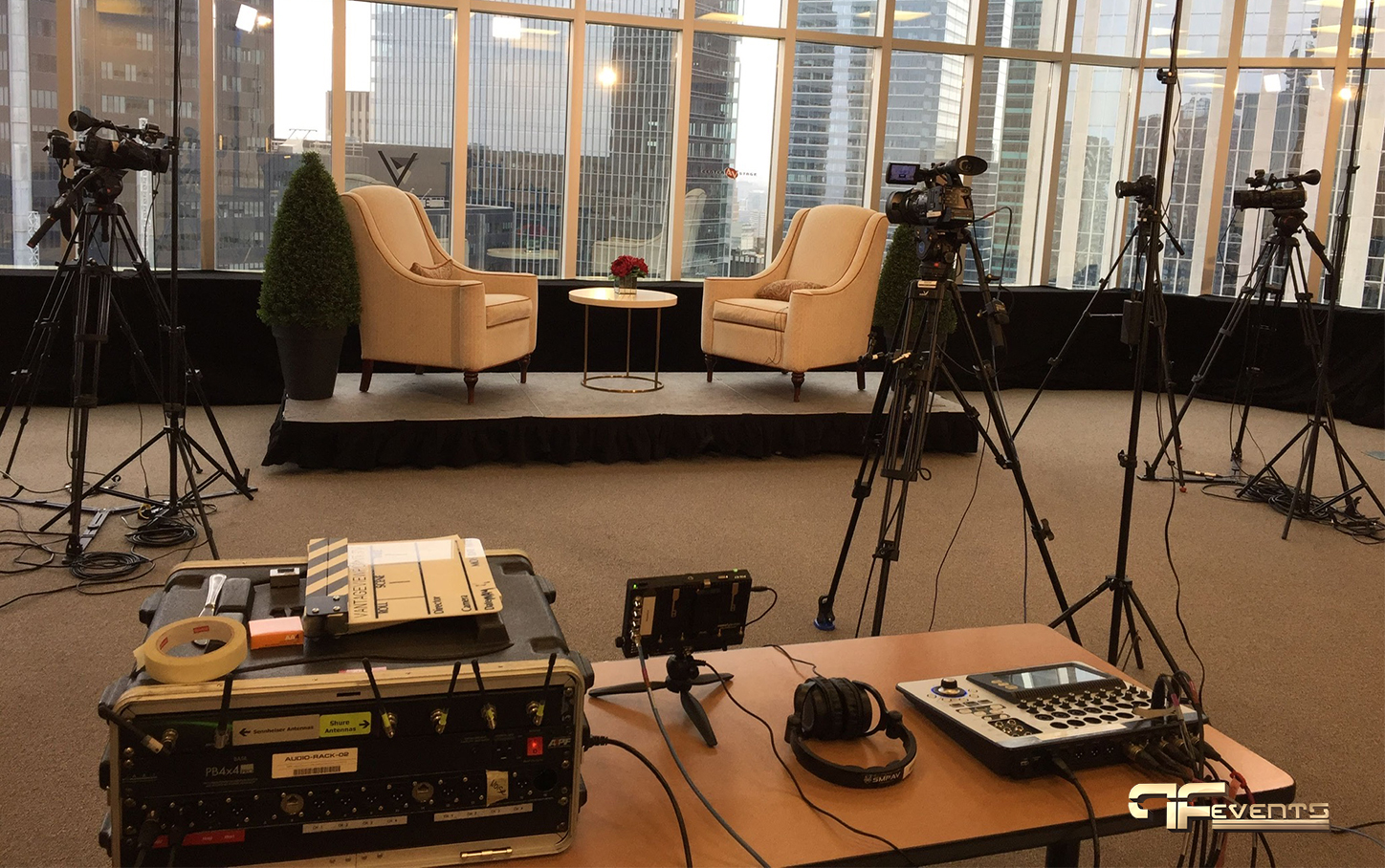 In this day and age, being able to communicate freely and instantly is mandatory for every business. Now, in Toronto, it is easier than ever to have the best video conference facilities for your office. You do not have to worry anymore about poor connection or even no connection at all with your workers in Canada or over the world. Us at Future's Past Events are devoted to helping you with every need to grow together.
Video Conference Facilities Toronto
The technology has advanced in gigantic steps. From waiting months just to receive a letter, to communicating with many people in real-time. Just some years ago in Toronto and worldwide, it was hard to even hold a video conference for like 100 people because we didn't have all the necessary facilities. Now we can make it possible that the message of your conference can be transmitted to many and many more people. We can even offer you a HI-Res LED video wall that would blow your audience away.
The Benefits of Video Conferencing
It's Efficient. It's well known that the most significant element of video conferencing it's reduced commuting time. If it wasn't for video conferencing an hour-long meeting can easily take your entire morning.
It Improves Communication. We as humans have the ability to process visual information way better than audio or text. This means a better understanding and easier remembering details of the meeting or the presentation.
It Improves Productivity. Rather than sending a fax or an email to a colleague and waiting for his response all-day, you can easily connect with a video call and share each other screens for more productivity.
It Provides More Structure for Meetings. With all the new video conference facilities many of the Toronto companies are more efficient because they can organize an agenda and stick to it. There are no more difficulties that can expand the time of the meeting.
It's More Engaging than Audio Conferencing. Participants in just voice conferences are more likely to lose the flow of the conversation because they feel disconnected and far away from the other participants. But in video conferences, the participants feel like they are in the same room, can make eye contact and everything.
Video conference room rentals
Because many of the participants of a conference follow the meeting from their home, often this meeting or conferences tend to become less professional. Because of this is needed that the main location of the conference or meeting has to be in a nice and professional environment. Future's Past Events can make possible all the video conference facilities so you can have the best conference or the nicest meeting in Toronto.
COVID procedure and safe hybrid event environment
In this difficult time that we are in, we try to make everyone feel safe while doing their work. That's why we have given such priority video conferences and online meetings so we can be on a safe distance but still feel close. But even on live occasions, we work with professionalism and care for everyone's health. We use all the protections against Covid-19 like:
Thermal Scanners
UV-C Purifiers
Disinfection tunnels and sanitation stations
Digital Signage
Event streaming for online participations
In recent months virtual and hybrid events become the salvation for us and prove themselves in the new era. Virtual events helped us a lot with all the distance meetings and conferences but after the reduction of the measures that the government took for Covid-19 a change was needed. Hybrid events are the best of the two worlds. In hybrid events, the real and virtual world mix together and helped with social distancing. Many events held now have a limited number of live participants and much more virtual ones.
Virtual Events and Hybrid Events difference
Virtual Events
Hybrid Events
No real-life participants
Limited real-life participants
Online apps like ZOOM etc, the only
Real-life venues and on online apps such as ZOOM
Support
Cost and time saver for all online participants
Extremely cost saving and
Time saver
Easily feels like a traditional event
Virtual and Hybrid Events
Why Hire a Conference Planning Company?
If you are planning to have a conference it is best that you focus only on the things that you love doing. All the stressful things like finding the venue in Toronto or renting all the other facilities like audio and visual systems. We will save you time and money because you don't have to find and pay different companies for different things while doing most of the work by yourself.
Future's Past Events is a leader among special event production companies, assisting some of the largest companies in Toronto with spectacular displays and all event staging solutions. Make us a call at (416) 939-7525 or send us an email at [email protected] We work with you to find the best options that fit your budget, meet your schedule, and portray your message exactly as you envision.