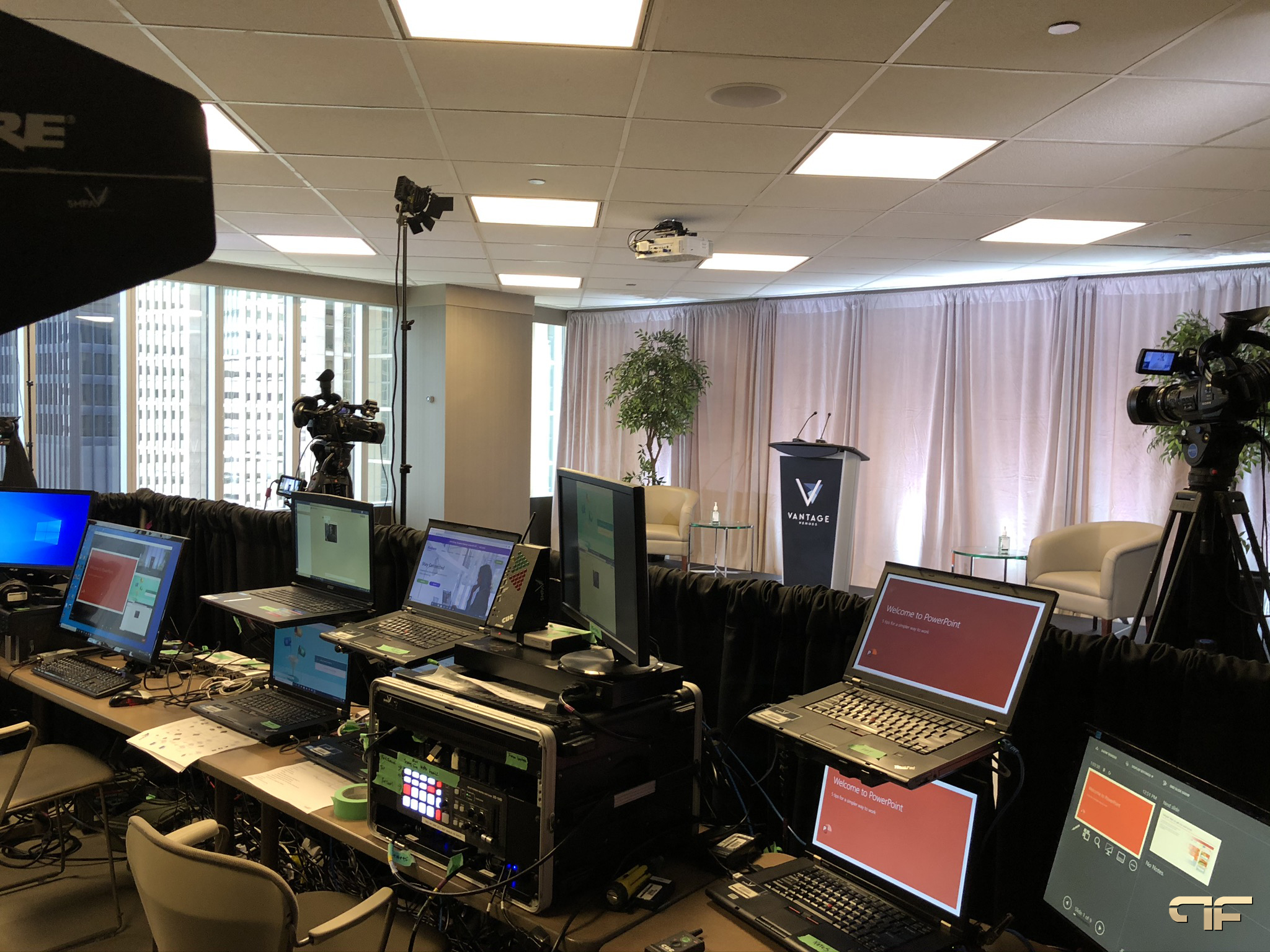 Virtual Event AV production refers to the production technology and audiovisual event (AV) used to produce a virtual, live, or hybrid event. Virtual event production can include services, equipment, tools, and staff with the expertise needed to deliver an exceptional audio-visual experience.
Why invest in the production of virtual Audiovisual events?
Whether you are producing a live event, a virtual event or a hybrid event – audiovisual equipment and resources enhance the participant's experience, and the speaker's experience and help support the behind-the-scenes team in running the event.
Virtual events are usually held to a higher standard by both the organizers and the guests. Now there are more virtual events than ever.
On the one hand, it means that audiences are ready and able to jump into virtual experiences. On the other hand, it also means that the bar for virtual experiences has been boosted.
Attendees expect fresh sounds, sharp videos, and any number of thriving media that help boost your message and make a unique engaging virtual experience.
Keep in mind that virtual events are complex. They include multiple sessions, speakers, and music tracks that are streamed live or on-demand – and they seek to facilitate various ways for your participants to engage with the content of the event.
Two popular myths about virtual events and AV production
Myth # 1
Because virtual events tend to be less costly to produce than personal events, there is no need to invest in high-quality products.
This is a typical mistake for virtual event organizers for the first time. While virtual events may generally be less costly to produce, they are still held to high-quality standards by attendees and event organizers as virtual events become more common.
Plus, quality AV equipment and crews can be expensive, and you really get what you pay for. So it is very likely that you will reallocate the budget from the venue and food expenses to the AV expenses.
Myth # 2
As the production of virtual events increases in 2021, the difference between webinars and virtual events has become clearer.
In reality, there are more virtual events happening every day and they last longer than webinars. Participants don't have patience for poorly produced events and can lose interest very fast. A high-quality virtual event keeps the audience interested and creates highly impactful experiences.
Virtual events can be compared to television and broadcast shows. Unlike webinars that last between 30 minutes and an hour, television broadcasting and streaming give priority to both production and quality content. This means configuring resources for audio, visual, and high-value effects that help keep viewers interested in the content.
5 Scenarios Where to Consider AV Production
There are many advantages to involving an AV production team in your next virtual event. Partnering with an AV production service can be a huge boost for resource-constrained teams, can enrich the onboard speaker experience, test and transmit speakers and their content, and can give a smoother experience, attractive, and the best brand for your attendees.
Here are 5 cases where you want to seriously consider including AV production sources:
When your internal team has limited time and/or resources
When you want to give your participants an experience at the broadcast level
When a virtual event includes celebrity speakers or a higher number of speakers
When your event includes two or more sessions
When an event needs multiple technical elements such as background music, pre-recorded videos, or visual transitions
You may want to consider investing in Audiovisuals if your event meets any of the above criteria.
AV Production Services and Resources
Live events support
Live event support can include real-time technical support for your team and your attendees, a professional event moderator to assist you with your sessions and speakers, playing pre-recorded videos of the day, and more.
Pre-Event Preparation and Training
Pre-event preparation can include a number of onboard activities such as speaker and moderator training, audio and visual best practices, and online lining. It should also include more technical aspects such as pre-event technical reviews, network and system configuration, content preparation, and evidence.
Broadcast of Recorded Event Sessions
If you are planning to make the most of your virtual event by offering on-demand sessions once the event is over, an AV production team can help. Many virtual experience solutions offer the opportunity to record virtual sessions, but AV production teams can also support recording, editing (if you want to adjust how your session recording lives forever), and streaming content on demand. once the event is over
Fully Produced Virtual Sessions with live and recorded content
A fully produced virtual event requires a comprehensive approach to managing all pre-event, day, and post-event production needs. For example, you may want to include various technical elements such as sponsoring or inserting ads, slides, lower thirds, remote camera configuration and operation, video conferencing resources, and customer composition.
Hybrid Event AV Production
If you are planning a hybrid event, you may need two different types of AV teams – an on-site team and a virtual support team. Or, you may be able to find a vendor that offers technical support both online and in person.
There are also various elements to consider for your part instead of your hybrid event versus your online element. For example, you will need reliable WiFi, charging access, microphones, and more for your location, but you will also need a hybrid event platform to supply your virtual attendee's experience as well as your personal ones.
Hybrid events will bring a new set of challenges to AV production. Finding the right partner to help you produce your virtual and personal elements can make all the difference. Some virtual and hybrid event platforms, such as Bizzabo, offer virtual production services. This is a great option because these experts are already well-versed in their particular program and can help you take your virtual audience experiences to the next level.