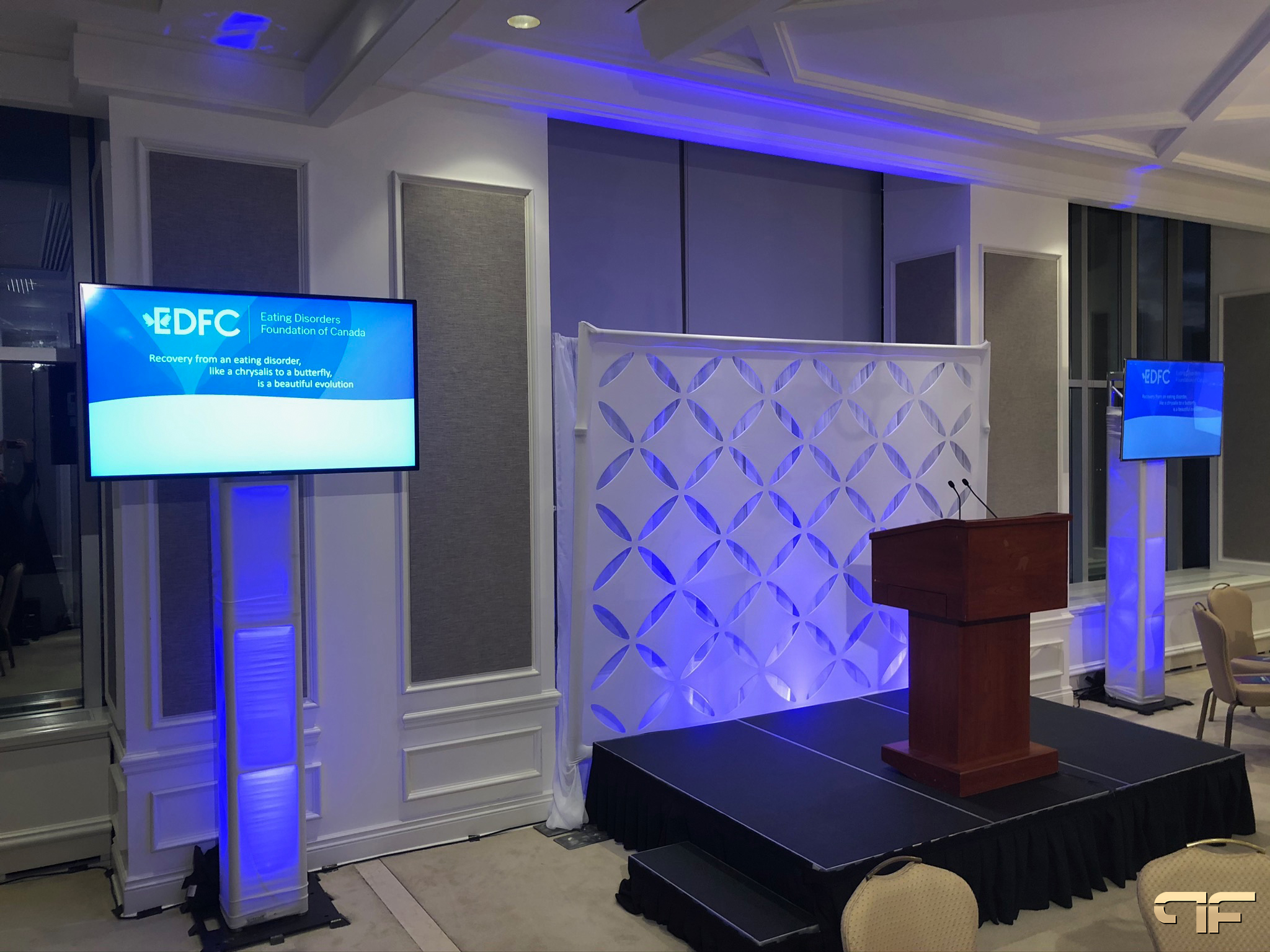 Creative Decors For Event Stages
Rendering to Reality
What separates a regular corporation from an extraordinary one? Attention to the smallest detail and conspicuous consideration for Creative Decors for Event Stages. Since here the audience will watch most of the time – it should be watched. FPE can help you take advantage of every inch of the available stage area to give you a unique attraction to your event. A combination of different types of media screens with different roof structures can play a big role in how your scene can look different. Small details like adjusting the scene decks and positioning speakers can also be added to these event decors. Think outside the box about your next event!
Digital Banners And Widescreens
Everyone loves that wow factor for their event. A simple way to make it all fantastic is to simply include digital stage banners and widescreen on stage. A scenic set traditionally includes a raised platform placed below a large screen. With the banners mentioned, you can place them creatively to cross the stage and present any multimedia content in the most elegant way.
Wide screens – can be very effective when it comes to displaying from a large stage. You can use the projection mixer for larger surfaces for very fine images. Digital banners and widescreens are mainly the media through which event planners can invest in interesting themes and decors.
Event Backdrops
A visually striking and flexible branding tool, an event background is a must for your event. It is essentially a high-tech frame that is illuminated and wrapped in photographic-quality printed nylon. This simple but effective solution is a great way that event planners can quickly deliver event-related messages, promote any product, and generally enhance the theme of the event or create recognition for the repetitive brand.
These wallpapers come in a variety of sizes, supplying everything from small room gatherings to large ballroom events. When possible, an organizer can place a small stage in front of existing video walls or other elements that are visually rich within the event space. This not only saves on costs but increases the overall value of the product.
Lighting
Abundant and well-adapted lighting makes the scene come alive. When it comes time to make a dramatic change, professional lighting has what it takes to transform a blank canvas into a whole new environment. Lighting does a lot of things, from controlling the mood of the scene to building energy when needed. Not only that, but it also creates an atmosphere of the event that attracts attention, in order to be memorable.
Lightweight LED alternatives will help create a large impact in small spaces by removing the care of heavy lighting equipment. Since they weigh much less than regular luminaires, such installations allow for more possibilities and flexibility for a configuration. Light lighting can be easily manipulated at points rather than worrying about overloads.
Booking Creative Decors for Event Stages from FPE
FPE will help you use your space, lighting, and footage properly, to make it your main part of the event experience. With our unique blend of talent and innovation, we offer many opportunities to help enhance the themes of your event and add a whole new element to audience engagement.
If you try it, you will not regret it! To get in touch, do not hesitate to contact our sales staff by sending an email to [email protected] or calling (416) 939-7525.