Who do you think is the best company for Audio Visual Services in Toronto? Living in Canada or Toronto means that you are used to attending various events. But have you thought about creating/organizing one? In principle, there are many small things that have a great impact on a successful event. And one of the most important in Toronto is the Audio Visual Services.
Our Audio Visual services are able to change and improve your event. However, depending on the event we tend to hold, we can determine the necessity and the need for the right services. The higher the participation in the event, the most likely will be the need for audio-visual services in Toronto.
But sometimes to achieve a successful event it is not enough just to use the tools of audiovisual services. What is also important is the use of modern technologies and professional teams which helps to achieve the right height of an event.
Let's take a look at some of the services and opportunities that Future's Past Events offer for you and your event.
Audio Visual Services in Toronto for Corporate events
Audio Visual Services in Toronto for Special events
Tradeshows events and Audio Visual Services in Toronto
Virtual and Hybrid events and Audio Visual Services in Toronto
Lighting and Staging and needs for Audio Visual Services in Toronto
Audio Visual Services for Toronto EventsToronto Events
Corporate Audio Visual Services for Toronto events – Corporate Meetings and Conferences
Distinguishing between something good and something spectacular is truly unique. If you are thinking about futures corporate events or conference events then you need to know some of the things how successful corporate events can be built and how important audiovisual services are to them.
Audio Visual Production in Toronto
Audio Visual Production for important shareholder meetings, sale-purchase meetings. Future's Past Events provides you with all the right sound, video, and sound equipment for your event with the right quality.
Event Webcasting: Event Webcasting gives you the best opportunity of the moment by offering services for corporate events as live events for your events. Regardless of the size of the attendance event, the audiovisual services will be of the right quality. Giving you the opportunity to make an event ubiquitous and ubiquitous.
Technical Support: Technical Support for your corporate events team. Future's Past Events works with qualified staff for all types of events including corporate events. Since we have 25 years of experience in various events we have always adapted to Time and technology giving the best.
System Design & Installation: Our staff is able to install all the audiovisual equipment for your corporate event. Design of rooms, auditors, lighting systems, installation of audio and video equipment, etc.
Preventive Maintenance: Preventive Maintenance for the internal equipment of your event. Future's Past Events has a well-planned plan which is able to provide all the internal communication equipment and everything else to function properly.
Video Production: Do you want to create a perfect solution for future corporate events? Then a good solution is to edit the videos created in your corporate event and post them on social networks or on your company website. This would increase the audience for futures corporate events.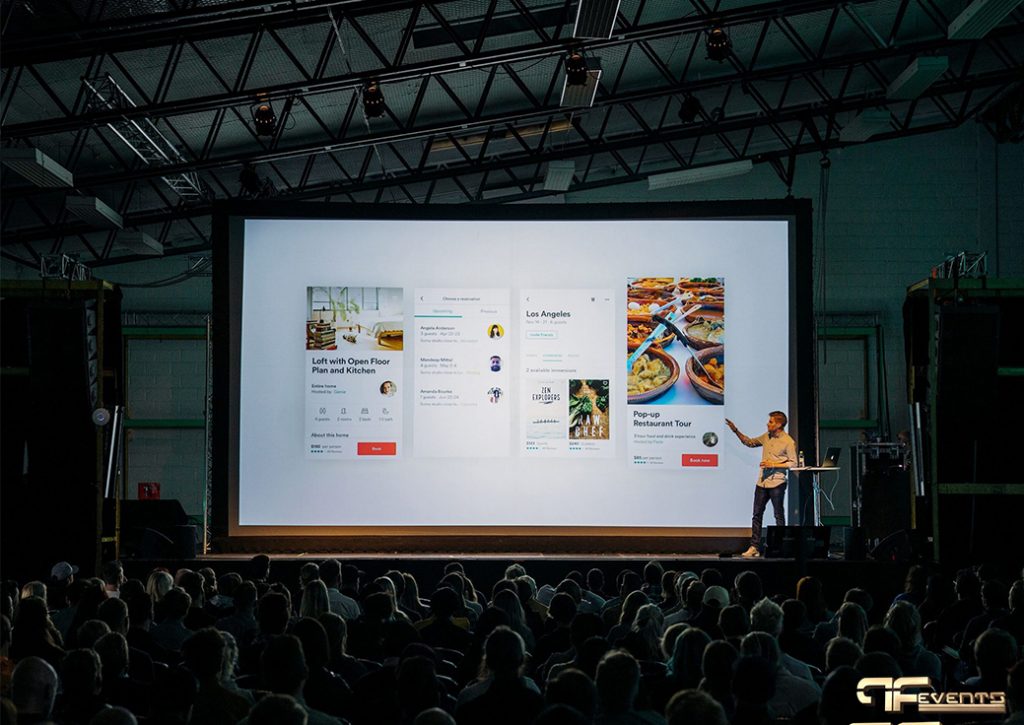 Live Streaming Services
Sometimes in life, we really understand what matters most in the world and that is life itself. But sometimes people have to get used to it and adapt to life as they have always done. And a real solution to suit almost everyone is live virtual events. The city of Toronto is full of many businesses, many people. People who want to do many things at once but can't. But Future's Past Events comes with the right solution for you. Let's look at some of the points and services where we support Live Streaming.
Audio Visual Services in Toronto for live streaming
Like corporate events, audio-visual services are important services for any event. But when you are ready to realize a live streaming everything should be perfect and nothing should be missing. Advanced technologies used for live streaming offer you the best solution for your event. But let's look at some of the benefits of audiovisual services in your live streaming.
Audio Services for live streaming
When we are ready to carry out an event we have to consider many details and one of those details is the audio services. Since Future's Past Events is based on audio-visual services we are able to give our best for it. When it comes to live streaming our only goal is to give our customers the opportunity to connect with a large audience, moving away from all those narrow walls of an office. Future's Past Events in each created event take lessons and get ready for the next improvement.
Our innovative technology for audio services include
Analog Mixing boards
Digital Mixing boards
Small venue sound systems
Large Venue sound systems
Indoor/Outdoor Speaker Array
Wireless Microphones
Audio components from every major manufacturer
Video Services for live streaming
When we talk about video then one thing that comes to mind is audio. Audio and video or Sound and visual are inseparable from each other. Whatever the type of event or in whatever size your live streaming is a relatively large impact affects its video services. We all hate the poor quality of a movie and try to bring it to a higher quality. But imagine how much you would hate a poor quality live streaming when you do not even have the opportunity to change its quality? Then by believing in Future's Past events we are able to bring the best video qualities and more.
Our innovative technology for video services include
Broadcast Switchers
Screen Management Systems
Video Projectors
Video Walls
Media Servers
Camera Packages
Video Playback and Recording
Video Screens
Scalers and Converters
Video Production and Editing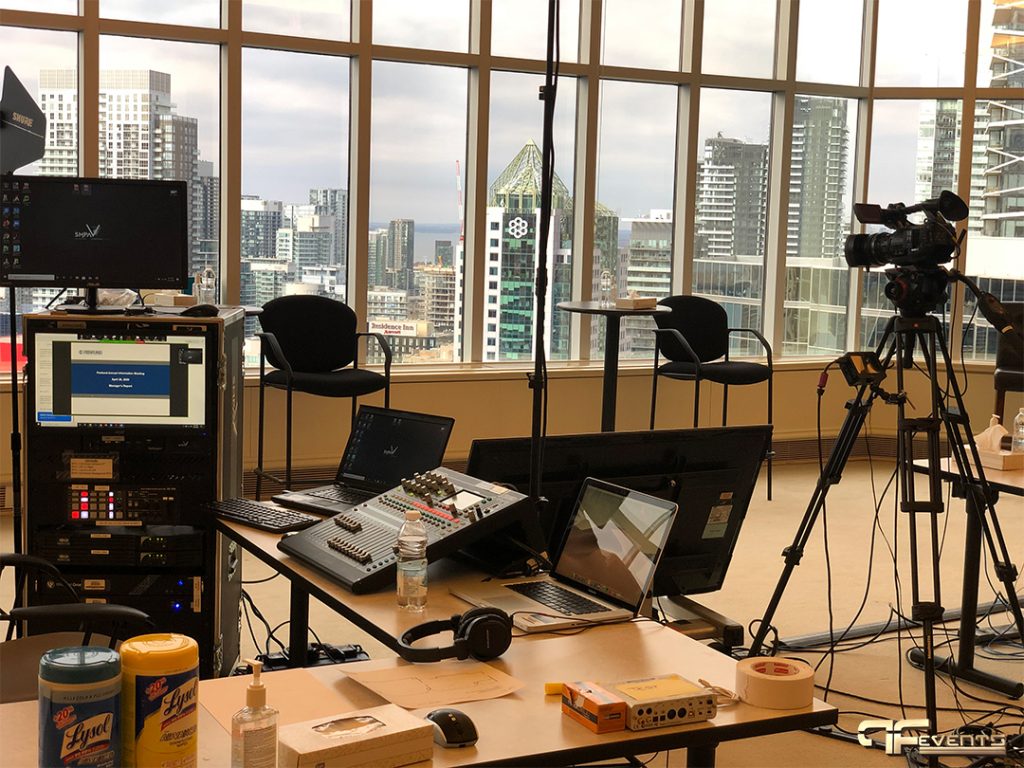 What Technology us FPE for events in Toronto?
Live Virtual Events, Virtual Meeting, Webcast Service Toronto, Webinar Service Toronto, or Event Live Streaming? What would you choose? When it comes to technology we all love it and we are all able to adapt to it. But where better for your event to get the services you need with maximum quality and affordable prices?
Then we will give you the right technology solution and it is called Future's Past Events. Living today we want to achieve many things at once but time and perhaps economic opportunities do not allow us to do so. But with Live Streaming and AV series, we offer you the best opportunity you have seen so far. Some of the Live Streaming services mixed with AV services are.
Live Production Services
Corporate events and audiovisual services
Conference AV Services
Live Virtual Events
Virtual Meetings
Webcast Services
Webinar Services
Event Live Streaming.
When AV services are combined with the right technology then they are able to positively impact your event by doing their best.
Webcast, Webinar & Video Conferencing Services
What is the best online method to communicate with clients, friends, or partners? If you are still in doubt as to who is right for you, then you are in the right place to get the right information.
For more information about Live Streaming click on Live Virtual Events.
Webcast: A Webcast is a simple presentation of a web speaker. Broadcast on Webcast is a one-way direction that goes from speaks to the audience.
Webinar: A Webinar is an interactive presentation between the internet and the audience. It is two-way communication between the audience and the speaker. Webinars are live and for this reason, their time is more limited.
Video Conferencing: Video Conferencing is a technology where different users from different countries gather in a live meeting. This technology is able to save time and money.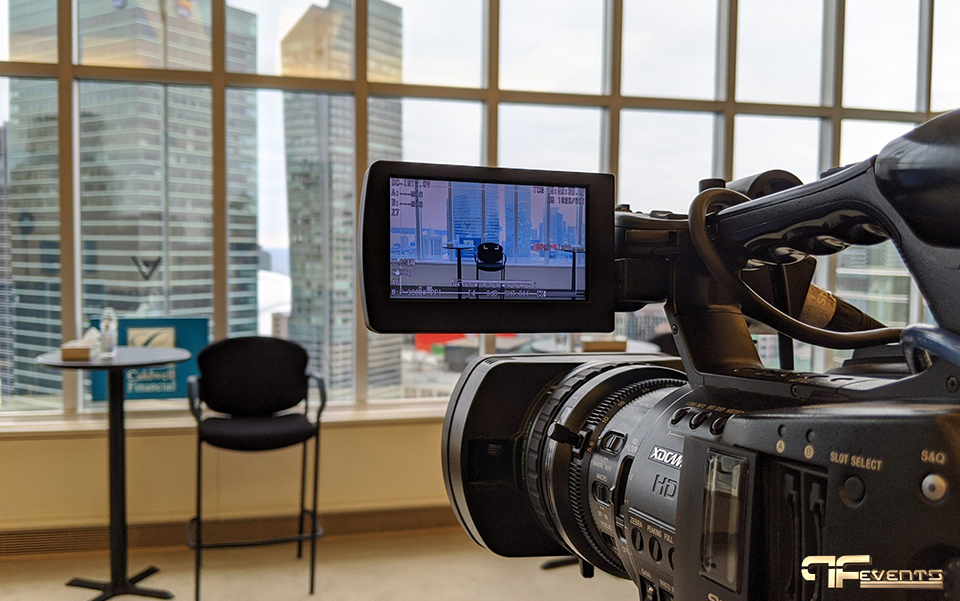 Webcast vs. Webinar
| | |
| --- | --- |
| Webcast | Webinar |
| Excellent repeatability | Highly interactive and intimate |
| No scheduling necessary | Better control over the virtual meeting environment |
| Highly shareable | Q&As and two-way communication are possible |
| Easier access to the event; no need to register | Effective for teaching and learning |
| Less prone to adverse effects of internet disruption; it's not scheduled, so the audience can access the webcast after the internet comes back up | More flexible than webcasting |
| Limited in the number of people who can participate | Poor interactivity; the communication between the speaker and audience is one way |
| Limited in repeatability (recording of webinars helps to alleviate this issue) | No real-time file or screen sharing or Q&A capability |
Webcast vs. Webinar
Audio Visual Services for special events in Toronto
If you live in Toronto it means you are in love with events. They are inseparable from us. But even more so when it comes to Special Events. You want your birthday or your son /daughter to be memorable or your gala event. Often times we rely on the food and decoration we see everywhere, but there are actually some things that really need to be remembered and one of them is the memories she leaves behind. An impact to improve our special event is their audiovisual services. They are able to give a better and more desired event.
With 25 years of experience in the field of audiovisual services for special events, we are able to provide all kinds of events you want. But for a successful event, we will always have audio-visual services. Let's look at some of the audio-visual services for special events.
Creative Lighting for special events
Lighting is a key point in special events. Future's Past Events uses a professional design for each of your events. From conferences to weddings. We have a wealth of knowledge, turning your venue into a creative and influential environment. Our lighting designers with many years of experience are able to give their best in every event we participate in.
Superior Vision Solutions
Using modern technology and with a wide range of max quality screens, we are able to provide all kinds of events with creative vision. The screen or background of your event creates a projection for multimedia, video, audio, presentation making your event at the right level. Therefore a good choice of a screen is one of the key points to achieve a successful event. Future's Past Events is able to offer you the right solution for every Audio Visual Services for Toronto events.
2D & 3D Projection Mapping for special events
Designing projections for special events or for conference events or virtual events is a technique used that designs video content on a screen surface. It is able to turn screens or physical spaces into a screen surface. There are two types of projection mapping.
2D Mapping – Occurs on flat surfaces, such as screens or walls. We are able to use 2D mapping to create visual wall-mounted screens that are able to make the event more successful.
3D Mapping – projection on 3D objects is able to give and create amazing 3D visual effects.
It does not matter what special events you are creating or where you want to create it. Projection maps are always able to make your event memorable for you and your attendees.
Video Production and Live Streaming for special events
Toronto is a big city and audio-visual services in Toronto are in demand. But with great demand come big competitors. Future's Past Events has been there to deliver the best in whatever condition and circumstance. But for successful special events in Toronto, we also need Video Production and Live Streaming.
Our team is able to offer you the best digital services by capturing your every moment. Like Video Production and event recording, we offer live broadcast services. This allows viewers to watch your event in real-time by connecting to a pc, laptop, or mobile device. Live Streaming enables everyone from the best services for events. No matter where you are your event will always be near you.
Multimedia Production & Content Creation for special events
To create a successful event you must always rely on Audio Visual Services in Toronto. We are able to offer a wide range of multimedia products making your event more interesting and more accomplished. Using modern technology and being supported by professional teams we have never been disappointed and we have always managed to give our best. Also, the use of social networks is able to positively influence our events. By giving the right information through videos and distributing them you will bring more audience for the next event.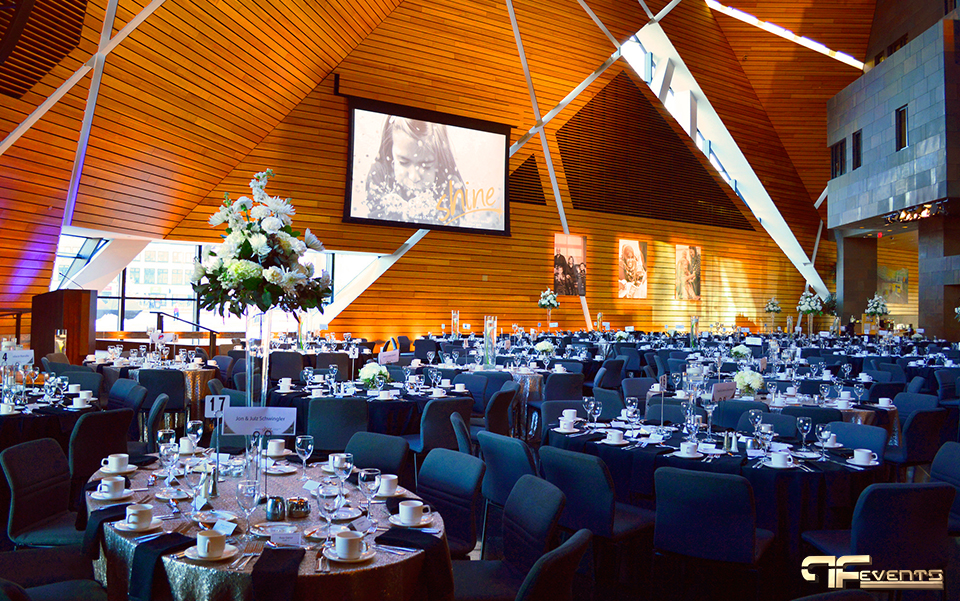 Why do Audio Visual Services for special events make events better?
Living in Toronto means being accustomed to different events and loving them. But to achieve a successful special event we always need Audio Visual Services in Toronto. Quality and good use of audio-visual services are able to positively affect our event and increase its visibility. An increase in viewership makes the next event more successful than the previous one.
Audio Visual Services for Tradeshow
Like other events Tradeshows also require audio-visual services. It does not matter the size of your Tradeshow, the more new experiences Future's Past Events get the better it gets. Our work team brings you the best experiences of av services and always offers the best. We are able to approve all modern technologies to make your event in the right rank. One of the best ways to make a Tradeshows as mentioned above is definitely the audio-visual services. But let's see what are the audiovisual needs for a tradeshow.
Personalized interactive displays
One of the key factors in creating a unique experience for your audience is creating personalized interactive displays. Through the realization of interactive displays, users are better able to connect with your brand. The more the public is involved through screens, lights, audio the better it will feel. When you give the audience the opportunity for freedom and performance, you have achieved a successful Tradeshow at that stage.
Projection-Mapping
Relying on 2D and 3D projections Future's Past Events is able to offer the best. Given the projection map and using regular objects we will be able to offer an interactive design. By designing the projection you will be able to display images, videos on any surface you want. Good audio service is able to bring music depending on the progress of your event. The 3D projection map is able to produce excellent visual events without the need for a real screen.
Motion Incorporation
If you are working with a simple screen but can not attract the attention of visitors. Need an idea of how you can get this attention? Then we come to your aid. To make a Tradeshow more interactive you need a crawler screen that is able to extract spoken words from the speaker. This would make it easier to understand the message. Also using PowerPoint would be ideal for you. By making a preliminary presentation you will be able to be more understandable to yourself and the audience that listens to you.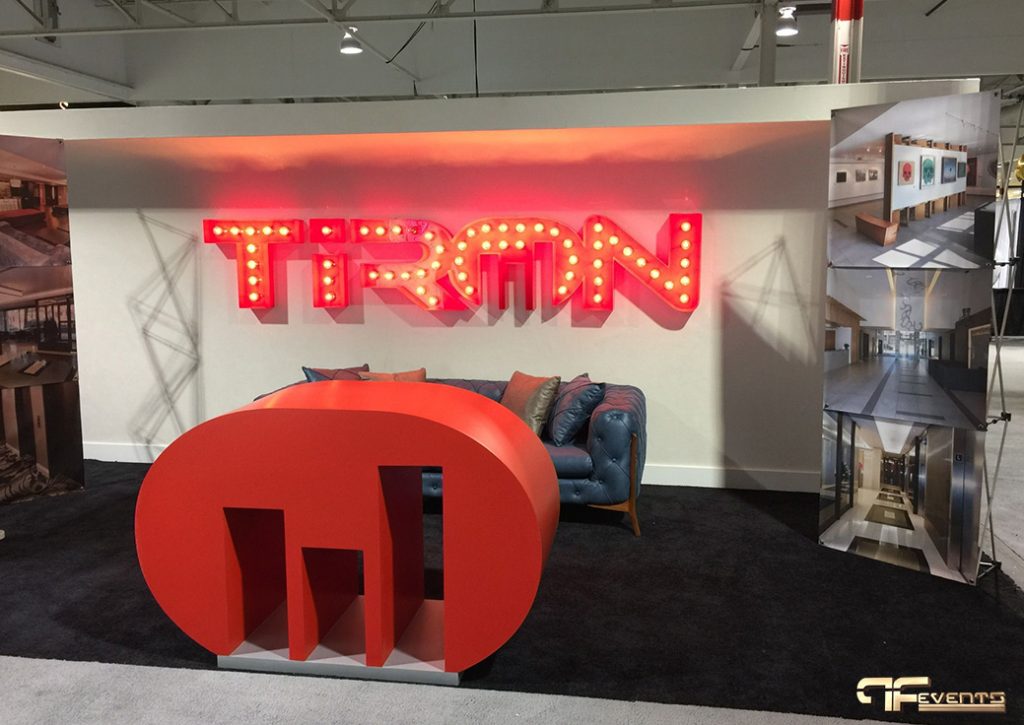 Audiovisual inclusion for your events.
Audio: Speakers, Consoles, Microphones.
Video: Monitors, Displays, Projectors, Cameras.
Lighting: Specialty Lighting, Rigging.
Digital and Interactive: Touch Screens, Interactive Video Walls.
Audio Visual Equipment List
We are able to bring audio-visual equipment for classrooms, workshops, seminars, special events, corporate events, conference events, hybrid events, etc. We are where you are, offering the best services at the most affordable prices. But by relying more and more on Audio Visual Equipment and having experience in any event we are able to distinguish the changes and needs that your event has. Let's look at some of the Audio Visual Equipment
Data Projectors: These types of tools are used in images such as. document camera, laptop, mobile, or any other device.
Wireless Microphones: Wireless Microphones are commonly used by presenters giving them to leave at any point in the scene. They are comfortable and you will not feel like they are there.
Powered Speakers: Powered Speakers are used for a remote audience. When your event is a huge audience then Powered Speakers would be helpful in this case.
Microphone Mixers: Such microphones are used in cases when we have many microphones and many presenters who can speak at the same time.
Podiums: Once all the technical side for audio visual equipment is over, then we need to worry about the podium. Arranging and adapting in the best way the seats for the audience and the presenters.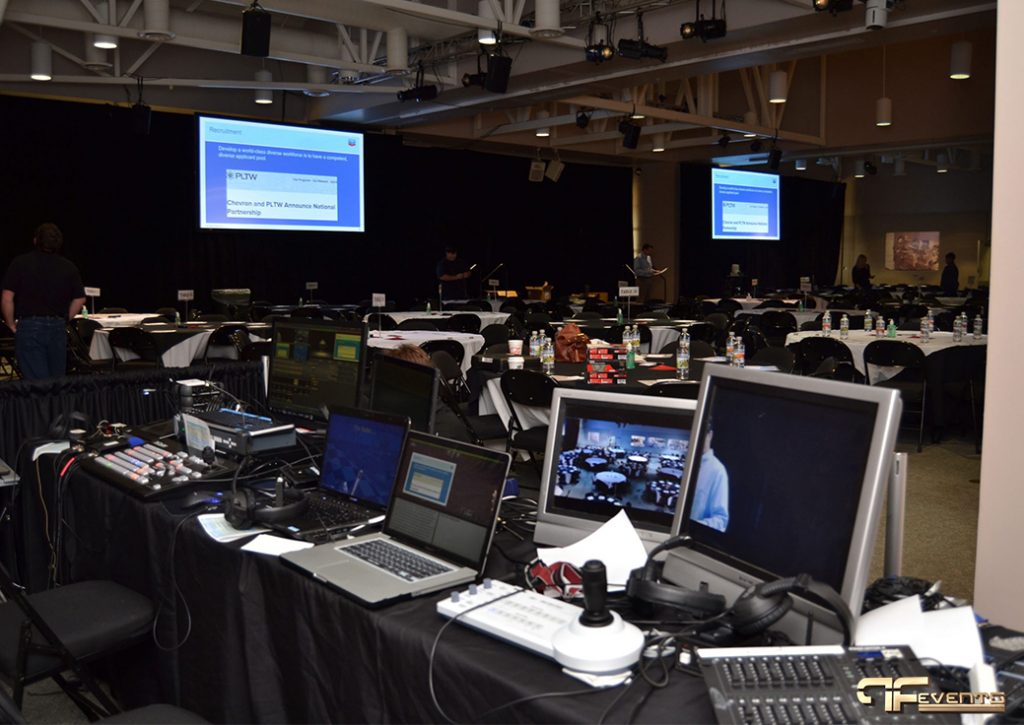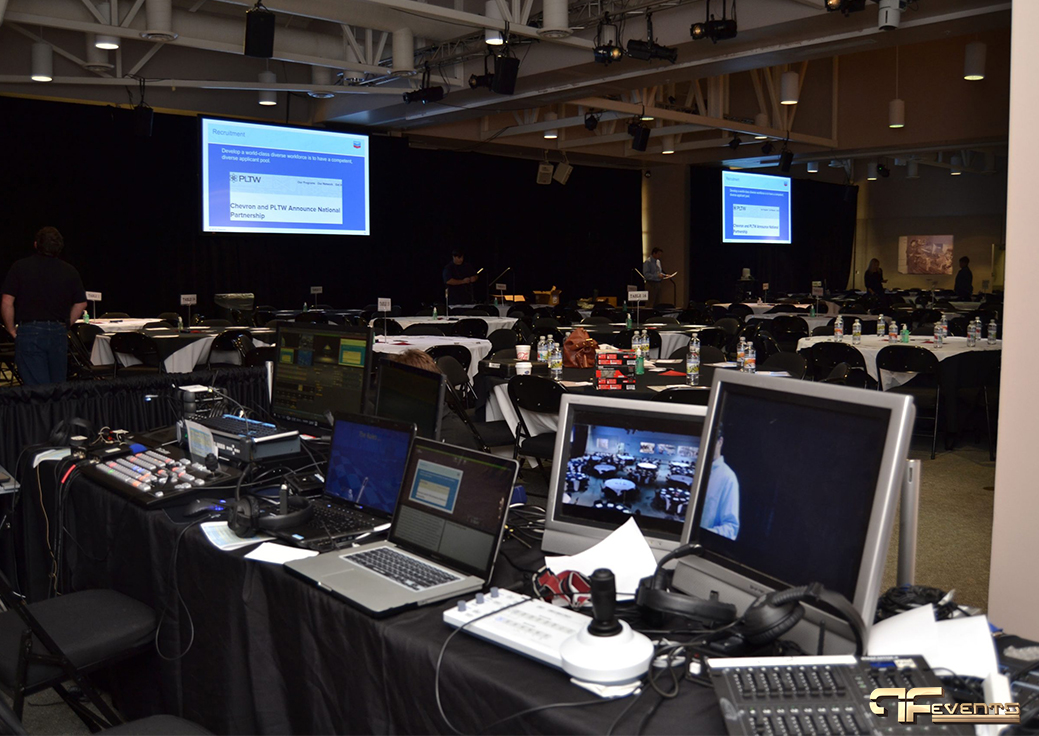 Hybrid Event Demonstrations Video
Why would you choose Future's Past Events?
What is the best choice for Audio Visual Services for Toronto Events? During these changing times, the importance of remote communication has never been higher. At Future's Past Events we have adapted to this change, and by using state-of-the-art technology we offer solutions to your business needs.
For more information on Future's Past Events and to make your corporate events or other occasions, incredible make us a call at (416) 939-7525 or send us an email at [email protected]!
Send a Quote