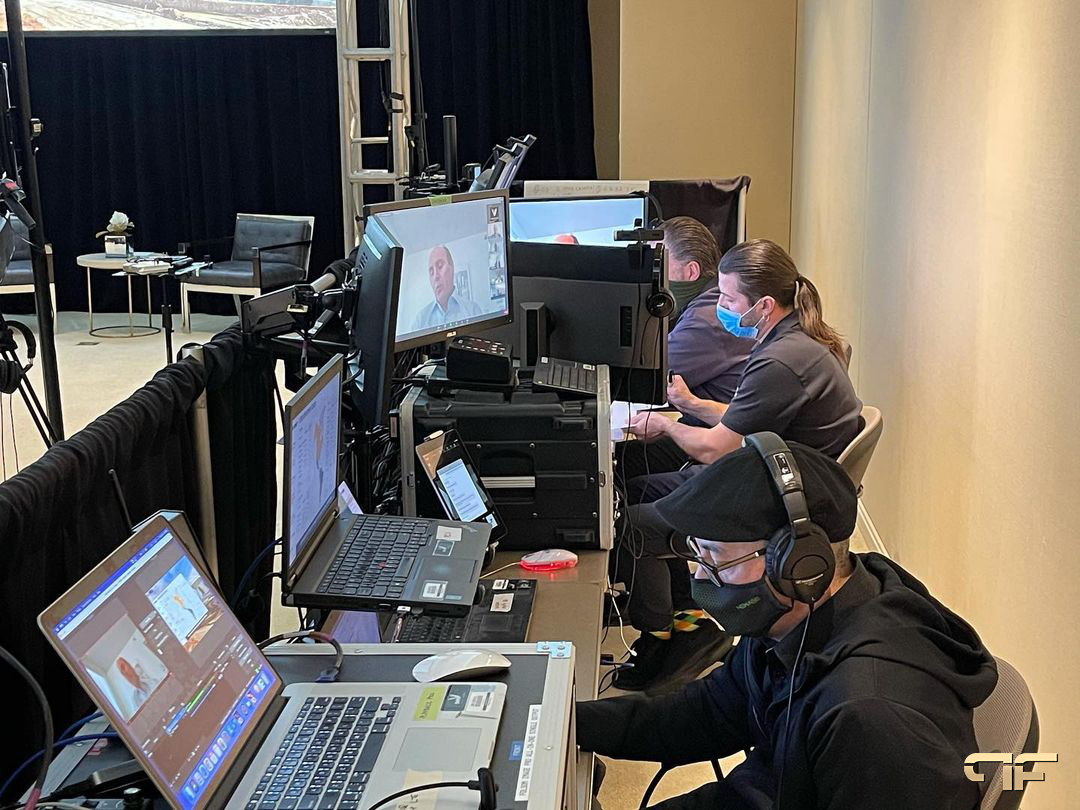 Future's Past Events Will Make Your Live Events Remarkable
As the world is slowly beginning to return to normal, we are seeing live events return, and so we are excited. The past year and a half have been challenging, but we are ready to face this new world and take care of live events. That being said, this will be a new world and live events will look different from what they did in a pre-COVID-19 world. FPE is here to tell you that if we are your AV partner, we will be there for you the entire time to make sure you are getting exactly what you are looking for. Here are 5 signs that FPE should be your AV partner at your next events:
Purpose
Full Service
Competitive
Partnership
Resources
We focus on the purpose of your event first and foremost
The FPE strategy that separates us from other AV companies is for us to focus on 4 P: purpose, production value, people, and platform behind an event, rather than focusing on a list of devices. This helps our clients bring their message and purpose to any kind of event.
FPE focuses on the purpose of your event primarily because defining the purpose of your event will guide the modeling, interaction between attendees, and the choices you make when it comes to entertaining your guests. We have no restrictions on how we construct an event. So if we know your goal is to create networks for example, then we will build the room around networks. We will look at the flow of your participants and see how we can create areas to engage them and look at different site settings to support the network. We can advise you and do many things to support you that you will not get from another AV company that is only supplying you with equipment.
Once we know the purpose of your event, we pay special attention to the value of the product because it is the key to participating in the engagement. Getting your participants' attention and making them excited about your event is the key to success in the eyes of FPE. Attendees are sick of Zoom meetings and are sick of the same boring old groups with two screens. It's time to change it and focus on your production value will get you there.
Belief is the FPE belief that the success of any event is due to having the right people on the team. PES looks at your field of activity and we assign a core team including account managers, manufacturers, project managers, creative directors, and engineers who have many years of experience working on events in a similar field. Our biggest investment is in our people and this is reflected in our events. It is not about equipment, it is about people.
We can provide a full range of event services
FPE does not only treat one service for your live event, we treat them all. We are your one-stop AV partner. Our services include:
AV production – FPE production uses state-of-the-art engineers and the best equipment in the industry to capture your vision and your goal.
Content – From producing video media to live content, our creative team will capture the content you are looking for to create a memorable experience for your participants.
Hybrid / Virtual Event – We have the tools, equipment, and experience to set up virtual and hybrid killer events. If you are staying with virtual or hybrid in 2021, we have got your back.
Pre-recorded content – Pre-registered content lets you plan and host a high-quality event while you are away.
Decor and stage decor services – Our team will bring in the "wow" factor that will impress your attendees and grab their attention as soon as they get into the event.
Exhibition Support Services – Our team handles the audiovisual exhibition component so you can focus your attention on other important aspects of your live event.
Branding and printing services – FPE branding and printing services make a statement and let your attendees know who you are and what your brand represents.
Presentation management and digital signage services – The FPE team manages your presentation from start to finish to make sure the message and mission of your event are clearly delivered.
Team building activity services – FPE can help you with team building activities that are perfect for relaxing and having fun as a team. Especially after the last year of being away, the team activities will be a fresh spirit to be enjoyed by all.
We offer competitive prices for live events
Our model allows more of your AV spend to be filtered into your events versus losing on hotel commissions. This allows us to do events anywhere across the country, without affecting your price. This is a key factor to consider when considering an outside company.
We have a long-term partnership approach
FPE has a long-term partnership approach with our consumers. We are not in it for just one event, we want to grow together and make your event better over time. Cooperating with the right people on our team with the right people on your team is important to us.
When we work together, you become part of our family, and you will see our culture shine. We build a relationship and friendship and are very excited to work with you on this event and celebrate with you afterward. We work hard, but we also know how to have a good time together.
We did not let the pandemic knock us down
2020 was a challenging year, but instead of leaving it weak, the FPE team stood on tiptoe, retained our hired teams, and added resources to our portfolio in order to be there for our customers and industry. These were difficult choices, but the right choices definitely. We have always positioned ourselves as an industry leader and the pandemic did not change that. FPE has added virtual and hybrid events to our repertoire and we are very good at making them great. We kept our core of creating unique experiences at all events and strengthen our diverse partnerships over the past year. With that being said, we are drawn to the events directly starting again!
This is why FPE should be your live event production partner!
There you have it! 5 reasons why FPE should be your AV partner. We become family and will give up our way to make sure your event is exactly the way you want it to be. Especially during this new post-COVID-19 world, you want an AV partner you can trust and who has the resources to set up a successful live event and Future's Past Events has your back. If you want to learn more about who we are as a company or would like to work together on your next event, call us, we would love to work with you!